Performance is key for enterprises: Verizon rated No.1 in overall wireless network performance
Performance is key for enterprises: Verizon rated No.1 in overall wireless network performance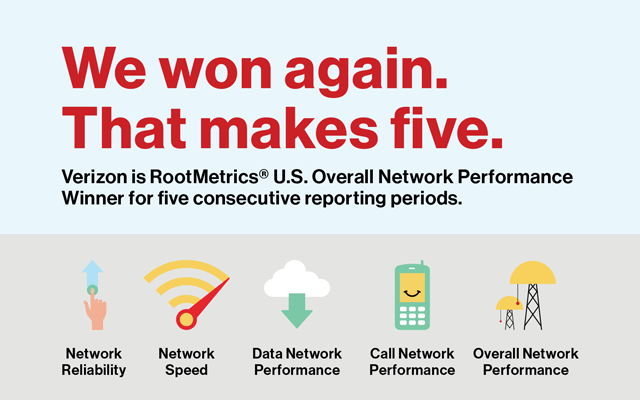 More than ever, enterprises depend on 4G LTE wireless connectivity for carrying mission-critical applications and connecting to employees and customers. With wireless connectivity playing an increasingly central role in overall enterprise networks, performance and uptime are key for today's digitally enabled business and government agency.
Verizon's network was rated No. 1 in overall network performance for the fifth consecutive testing period among the four national wireless companies in the United States by RootMetrics in its National Rootscore® Report released today. RootMetrics is an independent mobile analytics firm that uses off-the-shelf consumer smartphones to physically test a wireless network's capabilities in a number of categories across various geographies.
Scores are based on RootMetrics drive tests – and 6,607 indoor location tests – conducted across 232,000 miles in all 50 states, including 125 metro areas, from July through December 2015. The company evaluated all four U.S. wireless companies in six network performance categories: overall, reliability, speed, data, call, and text performance. This latest report rated the Verizon wireless network as first in five categories and tied for first in a sixth. In addition to overall network performance, Verizon was ranked highest for the fifth consecutive testing period in reliability, data and call performance.
Verizon also won network speed performance for the fourth consecutive time, and shared a first-place ranking in text performance. According to Verizon's 2015 Digital Transformation report, the transformative power of providing access to data, people and applications from practically anywhere continues to accelerate.  Sixty-five percent of enterprises surveyed said they plan to expand their enterprise mobility services to meet their business priorities.
"Our network team works relentlessly to provide a superior experience for enterprises and their users," said Thomas Fox, senior vice president of wireless enterprise for Verizon. "Because we know businesses and government agencies rely on us, we continue to accelerate our deployment of new technologies to ensure our network delivers enterprise-class performance and reliability ahead of growing demand." Diebold, a leading global provider of self-service technology, software and services to financial, commercial, retail and other markets, relies on Verizon's 4G LTE network to equip its field service teams with a video collaboration solution from Librestream that is improving first-time-fix rates and increasing service resolution times and overall costs.
"Our field service technicians require a specialized platform powered by a reliable, fast and secure wireless network as environments vary across customer locations," said Bill Fletcher, vice president of global remote services delivery with Diebold. "We work closely with Verizon and depend on them to provide enterprise-grade solutions which allow us to deliver a strong customer experience."
Verizon has a long history of delivering network excellence. The company continues to enhance its wireless network by aggressively deploying new technology such as LTE Advanced and carrier aggregation – which uses software to combine multiple network channels running on different spectrum bands into one big pipe – to significantly increase sustained speeds for customers. Add in the continuing deployment of small cells and distributed antenna systems, plus expanding XLTE coverage to effectively double the available 4G LTE network bandwidth, and cities nationwide should continue to see faster peak speeds and increased network capacity for data-hungry consumer and business customers.
To read the full news release, please click here.