Verizon's Emilio Gonzalez named Corporate Advocate of the Year by the US Hispanic Chamber of Commerce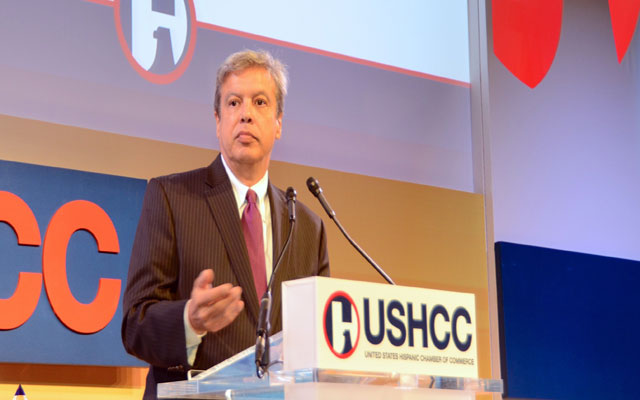 Verizon has always understood that diversity and inclusion is not simply a nice thing for a company to do, but a crucial part of the business's success. This week, we were honored to have one of our own – Emilio Gonzalez – recognized by the US Hispanic Chamber of Commerce (USHCC) – for his tireless work living by this mantra.
Emilio, Verizon's Executive Director of Strategic Alliances, was given the Chamber's Corporate Advocate of the Year Award for his unwavering commitment to championing the cause of Hispanic Business Enterprises as well as the mission of the USHCC.
Verizon is one of the largest spenders in the world with diverse suppliers, having purchased nearly $25 billion worth of services from them over the last five years. And as a charter member of the Billion Dollar Roundtable – an organization of companies that spend at least $1 billion annually with minority- and women-owned suppliers – we've been doing it as long as anyone. In fact, Verizon spends over a $1 billion annually just with Hispanic Business Enterprises alone.
"Diversity and Inclusion to us is not a challenge, it is a competitive advantage. That's why we spend on an annual basis, a billion dollars with Latino and Latina businesses," said Emilio while accepting his award this week. "This is a great moment for me, but more importantly it's a great honor for Verizon."
At Verizon, Emilio manages public policy, communications and outreach with a wide range of national civil rights and multicultural business groups nationwide.
"Emilio's passion for the business and the communities we serve runs deep," said Lowell McAdam, chairman and chief executive officer of Verizon. "His insightful and innovative leadership have helped Verizon establish meaningful and mutually beneficial relationships with the Hispanic community, including with the USHCC. I've seen first-hand the benefits that these diverse suppliers bring to our company and customers. I thank the Chamber for giving him this well-deserved honor."