Verizon's international team hosts U.S. State Department's TechGirls
Verizon's international team hosts U.S. State Department's TechGirls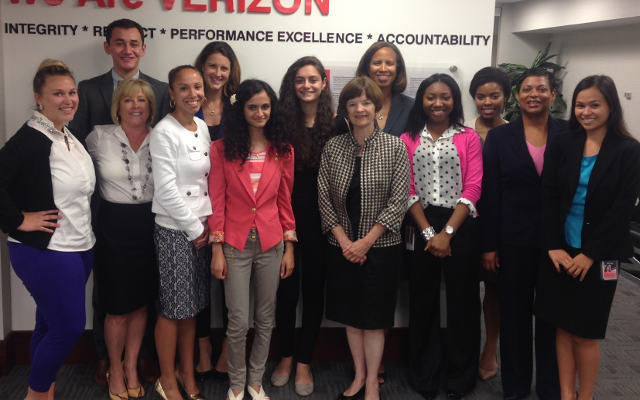 It is not every day that Verizon's senior leaders are given the opportunity to learn new ideas from high school students.  However, last week, a group of Verizon's women executives found themselves being inspired by the insights of two young women with a strong desire to contribute to the technology industry in bright new ways.  The conversation ranged from how technology can transform healthcare, to how the study of psychology could impact the way our engineers innovate. 
The exchange came following a request from the U.S. Department of State's Bureau of Educational and Cultural Affairs that Verizon host two students ages 15 and 17 from Jordan and Palestine as part of a job-shadow program called "TechGirls."  This year, 27 TechGirls were selected from a pool of 1,000 applicants from eight countries in the Middle East and North Africa, and arrived in Washington D.C. on June 25 for a three-week exchange.  The program aims to empower these girls with the knowledge and resources needed to pursue higher education and careers in technology.  TechGirls builds upon the U.S. global commitment to advance the rights of women and girls around the world, as well as the technology industry's commitment to further engage young women in STEM education initiatives.  TechGirls was first announced in 2011, following a successful program entitled TechWomen, which mentored and paired emerging women leaders with some of the top American women in the technology sector. 
After completing two weeks of coursework on coding in an iD TechCamp, an interactive technology and computer camp at Towson University, Verizon's TechGirls spent the day shadowing women in leadership roles at Verizon, and sharing their views on the growth of our industry.  As a company that has benefitted from strong women's leadership, Verizon understands the importance of engaging the next generation of women with education and careers that will support the future of the tech industry.  Some reports show that the percentage of women earning computer science degrees is dwindling, and few engineers in our sector are women.  This deficiency presents itself across all continents, and threatens the robust growth of innovation, which is why Verizon continues to support TechGirls and similar initiatives.  The Verizon Foundation recently sponsored the 2013 Geek Girl Cape Cod Tech Conference, which offered 80 workshops on computer technology for women and girls of all ages.  Through these types of partnerships, we can continue to make a positive impact on the women leaders of tomorrow.  For more information on the Verizon Foundation's projects, please visit the foundation's website.