Video From Your Smartphone to Your TV With Just a Tap
Video From Your Smartphone to Your TV With Just a Tap
This sponsored article was written by Erica Swallow, a New York City-based tech and lifestyle writer, technology entrepreneur, and MIT Sloan MBA candidate. Erica's articles on entrepreneurship and startups have appeared in Forbes, Mashable and The Huffing
The video space is fragmented. We watch videos on our TVs, laptops, cell phones, and when you dig down to the services we use, it gets even more disconnected-- cable, satellite, YouTube, Netflix, Hulu, news sites, individual websites, social sites. The list goes on.
New York-based startup iMediaShare is looking to bring the video-viewing experience back to the television, making it easy for people to find and play videos right from their smartphones to their TVs with the tap of a finger. iMediaShare is an app that works with Smart TVs, Internet-enabled game consoles, media boxes (Apple TV, Popcorn) and DLNA media players, allowing videos discovered through the application to be viewed on your TV.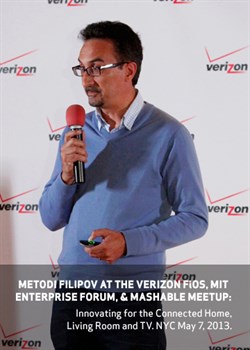 When activated, iMediaShare discovers all of the digital media stored on your phone, your home PC and other media retrieved via your wireless network. All content appears organized in channels, which you can then select to enjoy HD video, photos and music directly on your TV.
Co-founder Metodi Filipov demonstrated the app at a recent Verizon FiOS Meetup that focused on bringing entrepreneurs, developers, venture capitalists, and media moguls together to discuss the future of the connected home.
Filipov shared his frustration with having to watch mobile videos on a small screen, passing a single phone around from person to person to share fun videos while hanging out. This frustration was the inspiration for iMediaShare.
Filipov isn't the only one frustrated by the lack of connectivity between his mobile and TV screens. A healthy 32 percent of consumers indicated interest in the ability to control or influence TV shows via a phone or tablet, according to the Verizon FiOS Innovation Index. iMediaShare, though, goes beyond just TV shows. It aims to bring the web to your TV.
"We bring to your TV screen the things you are already watching, but that you can't get on normal cable service or satellite," says Filipov.
The company currently boasts partnerships with content providers including YouTube, Vimeo, CBSNews, CNBC, and Discovery, so that users can access a wide range of videos to stream to their TVs. Even better is the fact that content can be served up in HD and 3D.
The lite and full versions of the app are available for iPhone and Android devices and support a number of devices, including televisions, game consoles, network media players, and more -- specific device compatibility information is available on the app store.
The company announced its one-millionth active user in February and has had more than 5 million app downloads so far.