#VZGreatLakes Roadtreking Tour: Crossing Lake Michigan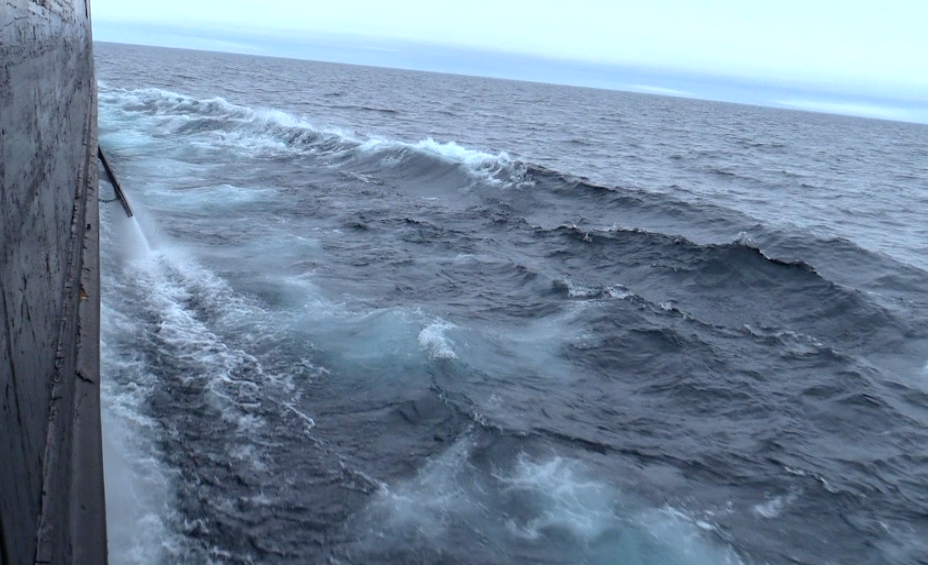 Sometimes, to really appreciate something, you have to immerse yourself in it.
So it was with Lake Michigan during our #VZGreatLakes Roadtreking Tour.
No, I didn't go swimming in it. The heavy ice up this past winter has left it and the other four Great Lakes abnormally cold. And normal is cold. This summer, it is really cold.
So instead of getting wet in the lake, we crossed it.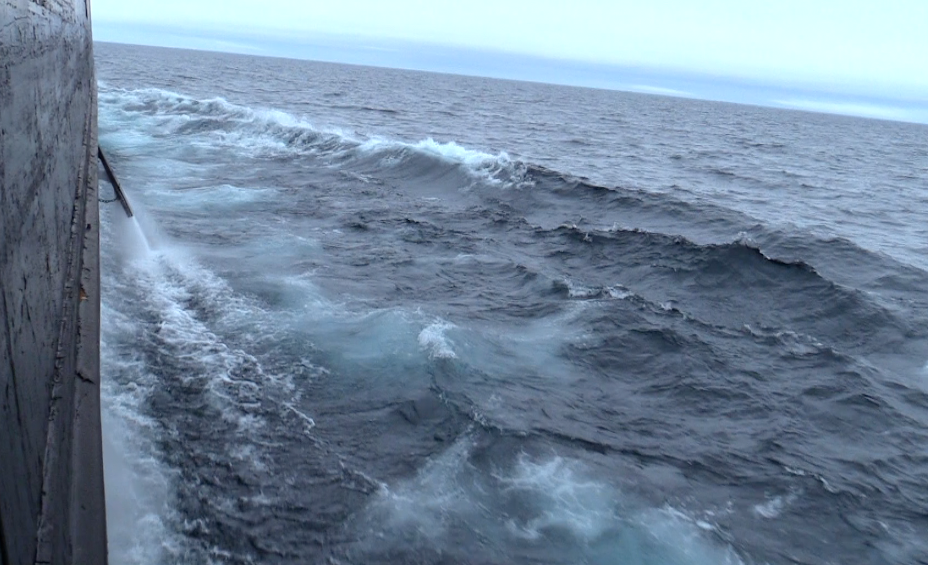 Crossing Lake Michigan.
Bright and early on a recent morning, our Roadtrek E-Trek motorhome backed aboard the SS Badger, the largest car ferry steamship in the Great Lakes, measuring more than 410 feet and able to hold 180 vehicles and 600 passengers.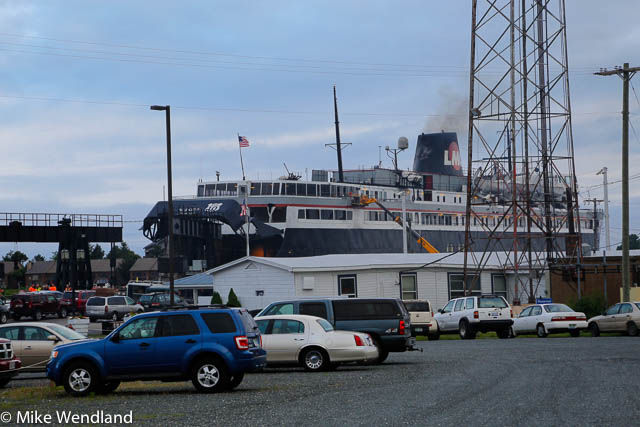 The SS Badger.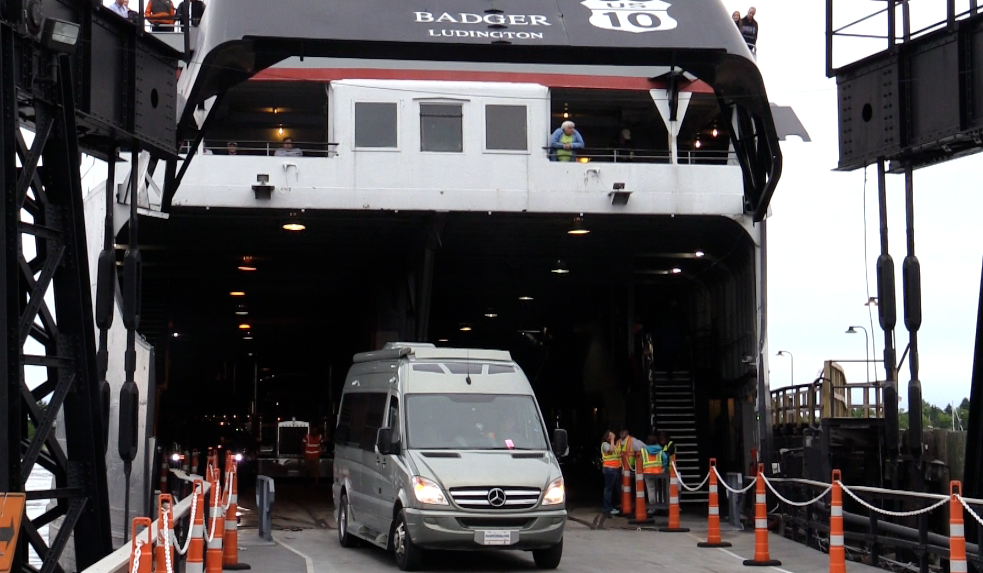 Loading the ferry.
Our route traveled 60 miles in a straight line across Lake Michigan from Ludington, MI to Manitowoc, WI.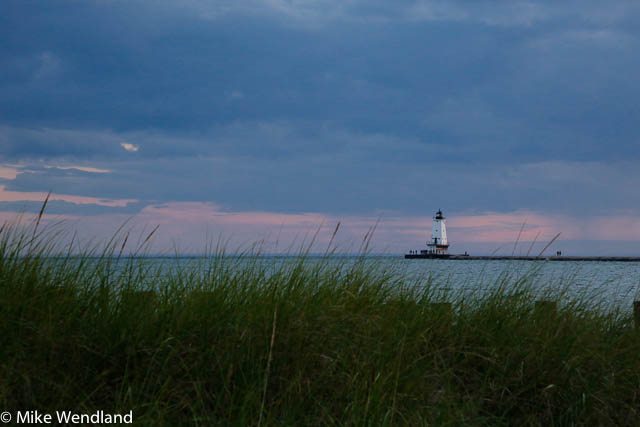 Ludington, MI
We were given a bow to stern tour of the big ship – in consideration to be a National Historic Landmark. The two-level vehicle hold takes cars, motorcycles, RVs, even truck semis.
In the engine room, the massive steam engines run so smooth you can balance a nickel on them.
To really appreciate the size of Lake Michigan, you need to be in the middle of it. It fills the horizon, as far as you can see in any direction, the only Great Lake entirely within the United States, touching the borders of four states.
I was surprised how far out Verizon's 4G LTE cellular coverage worked. When we finally were out of range, the Badger's satellite-based WiFi system let us stay connected.
We even had a stateroom aboard the Badger. I snuck in an hour long nap as the big ship cut across two and three foot waves. I slept like a baby, rocked gently by the ship.
As we approached the Wisconsin shore, our motorhome was driven onto the dock. The trip took four hours from shore to shore - four relaxing, stress-free, very enjoyable hours.
I've had lots of email from folks following our blog reports on the #VZGreatLakes Roadtreking Tour. Many have passed along suggestions on things we should check out during our travels. But many have been curious about the technology I've been using as we've been driving (what will end up being) a 4,000 mile route along the lakes.
I've written before how I rely on Verizon's 4G LTE network and a MiFi mobile hotspot to keep me connected. But Verizon also loaned us some handy gadgets and gizmos to test out on this tour that we have really come to appreciate.
Here are three of our favorites:
The Belkin NetCam HD camera with night vision – Actually, the camera is back home. I connect to it with an app that delivers a live video and audio stream right to my iPhone or iPad. I can check the feed at any time, no matter where I happen to be. The app is free, and the camera costs $129.
The Logitech UE Mini Boom Box – We like to listen to streaming Internet music from services like Pandora or Spotify. And we watch movies with Netflix. This very handy little red speaker system fits in the palm of my hand and works via Bluetooth to deliver loud, clear audio. Cost is $89.
The Motorola Roadster Pro – This is another Bluetooth speaker system, but we use this unit for hands free phone operation. It will handle two different cellular phones, so both my wife and I can make and receive calls over it. It attaches just over the visor and uses four built-in microphones and noise canceling for maximum clarity. It costs $129.
Next up in our reports: the Lake Michigan shoreline in southern Wisconsin, Illinois and Indiana.
Tweet me (@roadtreking) using the #VZGreatLakes hashtag to recommend a place for me to visit!
For more Verizon Wireless news, subscribe via RSS feeds in the right rail.
*Disclosure: Verizon has compensated Mike for partnering with us on the Great Lakes Tour, but all opinions are his own.