#VZGreatLakes Roadtreking Tour: Lake Huron's Upper Peninsula Shore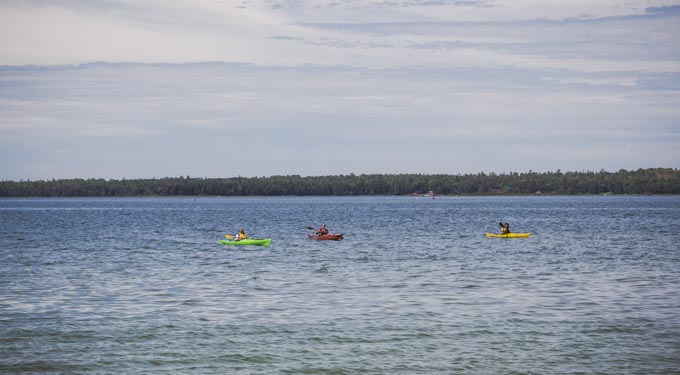 There's a different feel to the Lake Huron shoreline as soon as you cross over the Mackinac Bridge into Michigan's Upper Peninsula. It is quieter, more protected and it calls the visitor to sit and stay a little longer, just gazing out at its island-studded waters.
Check out this video from the most recent leg of our #VZGreatLakes Roadtreking Tour and you'll see what I mean:
Those islands you see as soon as you start to round the shoreline in the Upper Peninsula on state highway 134 past St. Ignace are known as Les Cheneaux Islands.
They consist of three dozen small islands located just offshore - islands perfect for fishing and exploring, especially by kayak, where quiet coves and sheltered bays beckon the adventurer.
They stretch through the waterfront communities of Hessel and Cedarville, almost to the far eastern end of the lake where it is fed by the St. Mary's River in Detour Village.
Jesse Hadley runs a small shop in Hessel that specializes in eco-tours of Les Cheneaux Islands. She's passionate about sharing it…but also protecting it.
"A lot of people don't know about these islands," she said. "Most of the people who live around here have families who have been here for generations. We're all a little protective of them. They are so unique and beautiful, and the water and sky are unlike no place else in the Great Lakes region."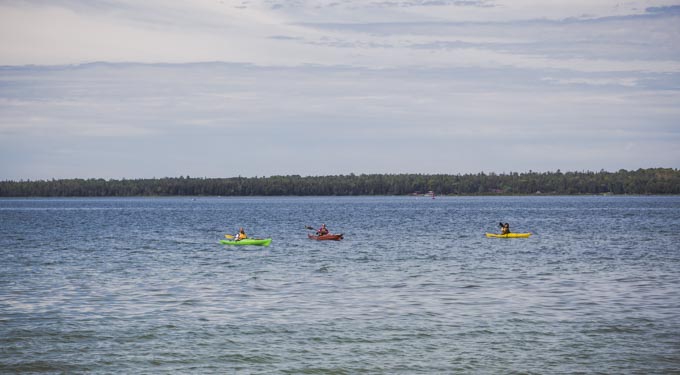 Kayak tours of Les Cheneaux Islands.
In Detour Village, we stopped by the small museum in Detour, dedicated to the area's rich history as the northern starting point of the big lake.
And then we followed the river northwest to Sault Ste. Marie. We camped right on the broad river bank, at the Soo Locks Campground. We planned on just one night, but we became so mesmerized at watching the huge lake freighters go by that we spent three nights.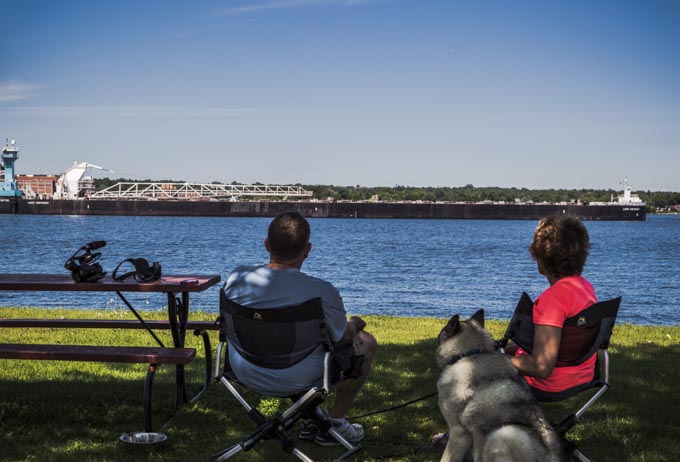 Watching freighters with Jennifer.
This is a favorite place to take photos, and Verizon's strong 4G LTE network makes it easy to send those having-a-great-time photos back to friends and relatives.
My wife Jennifer snapped freighter pictures on her iPhone and sent them to our grandchildren.
"Having the ability to share our travels with our grandkids is great," she said. "We travel so much, and through Verizon, I can text my grandkids and stay in touch, even though we're far away."
I do the same thing. Since we can't take them with us, we can share every step of our travels by emailing and texting them. I like to send little movies recorded on my smartphone. That just may be one of the neatest things about technology - how it lets us let others know we are thinking of them as we're on the move.
Up and down the shoreline and later over at the Soo Locks, hardly anyone was using a regular camera. Everyone seemingly was snapping smartphone photos and zapping them off.
"It's so relaxing up here," said Linda Grant, of Lexington, KY, who with husband, Bill, has been coming to the Soo Locks Campground each summer for more than two years. "Down in Kentucky it's 92 degrees. Up here it's very nice with the cool breeze off the water," Grant said.
Also on the riverbank were Jane Bremmer and Katie Schumann, a mother-daughter duo visiting the area from their home near Grand Rapids, MI. Both of them had their iPhones out and were photographing the passive river traffic.
"I was worried that way up here I wouldn't get a signal," said Katie, 16."But I've been able to text and call beautifully."
The Locks are where Lake Superior meets Lake Huron.
It was there we said goodbye to Huron, whose Michigan shoreline had us travel more than 500 miles from Port Huron. It was time to get ready for our next Lake – Superior.
Look for the first part of that trip coming soon!
You can tweet me (@roadtreking) using the #VZGreatLakes and #PureMichigan hashtags.
For more Verizon Wireless news, subscribe via RSS feeds in the right rail.
*Disclosure: Verizon has compensated Mike for partnering with us on the Great Lakes Tour, but all opinions are his own.