We're a 2021 LinkedIn top US company.
For the fourth year, Verizon has been named a top place to work by LinkedIn members around the globe.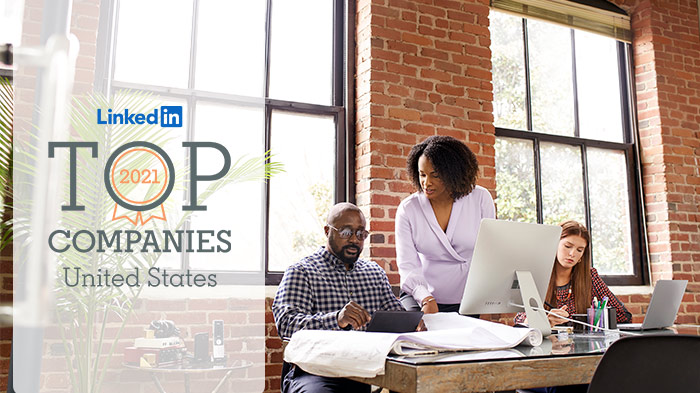 At Verizon, our greatest strength is our V Team. For the fourth year, we're proud to be recognized as a place where people want to work. LinkedIn has released its 2021 Top US Companies list, and we're honored to make the list at #14.
We moved up 14 spots from our ranking in 2019 and were recognized for our COVID-19 response, mental health awareness programs, 5G network investments and benefits. 
What makes this ranking as a top US company different from others is that it's created with data from LinkedIn's 740 million members across the globe. Our ranking in the top 50 companies is based solely on the actions of LinkedIn's member base including interest in the company, engagement with company employees, job demand and employee retention.
At Verizon, we strive to foster an inclusive environment where all V Teamers have the power to pursue their ambitions and drive meaningful change in their careers, community, and the world at large. Here are a few ways we do just that. 
Our culture of learning helps V Teamers grow.  
V Teamers are the lifeline of our company; when they grow, we grow. Verizon provides training and development opportunities to help employees enhance their skills and advance their careers. Perks like tuition assistance, award-winning training, and online development tools help make this possible. 
Benefits that move you forward. 
We provide our team with the resources they need to thrive both inside and outside of the workplace. Eligible employees can take advantage of our comprehensive benefits package, including medical/dental coverage, generous time off, paid parental leave, employee assistance programs, and much more. 
Learn more about Verizon's benefits. 
Committed to diversity, equity and inclusion. 
Our commitment to fostering an inclusive environment is instilled in our culture. This past year, we were recognized as a Top Company for Executive Women, Top Company for Multicultural Women, and the #3 Military Friendly® Company.
Learn more about our commitment to diversity and inclusion. 
Network, mentor and learn from your team. 
Our employee resource groups (ERGs) also give our V Teamers the opportunity to pursue initiatives that are important to them, connect with employees who share similar interests, and network professionally and personally. 
ERGs are employee-led company-sponsored groups that engage and empower V Teamers to help them fulfill their greatest potential as we continue to strengthen our diverse and inclusive culture. They include: 
Verizon ADVANCE – Advocates for Disability, Access, Neurodiversity and Caregiver Empowerment
Verizon BOLD – Black Originators Leaders and Doers
Verizon NAV – Native Americans of Verizon
Verizon PACE – Pan Asian Corporate Excellence
Verizon PACT – Parents and Caregivers Together
Verizon PRISM – Lead with pride
Verizon SOMOS – The voice of the Latinx community
Verizon UNITED of Verizon – Progress through unity
Verizon VALOR – Veterans and Advocates Leading the Organization Responsibly
Verizon WAVE – Women's Association of Verizon Employees
Learn more about our empowering culture. 
Creating meaningful change and positive impact.
From planting trees to writing letters to veterans, our team is committed to doing good and making a difference. Our goal is to contribute 2.5 million volunteer hours by 2025 across our three pillars: digital inclusion, climate protection, and human prosperity. And we're well on our way, with over 657,000 hours completed as of March 2021. 
Learn about our volunteer initiatives.  
Learn how you can be part of the network of people who move the world forward.