How to manage chores and allowance in the digital age
How parents are using tech to motivate kids—and what caregivers need to know before making it a part of the daily, digital routine.
Full Transparency
Our editorial transparency tool uses blockchain technology to permanently log all changes made to official releases after publication. However, this post is not an official release and therefore not tracked. Visit our learn more for more information.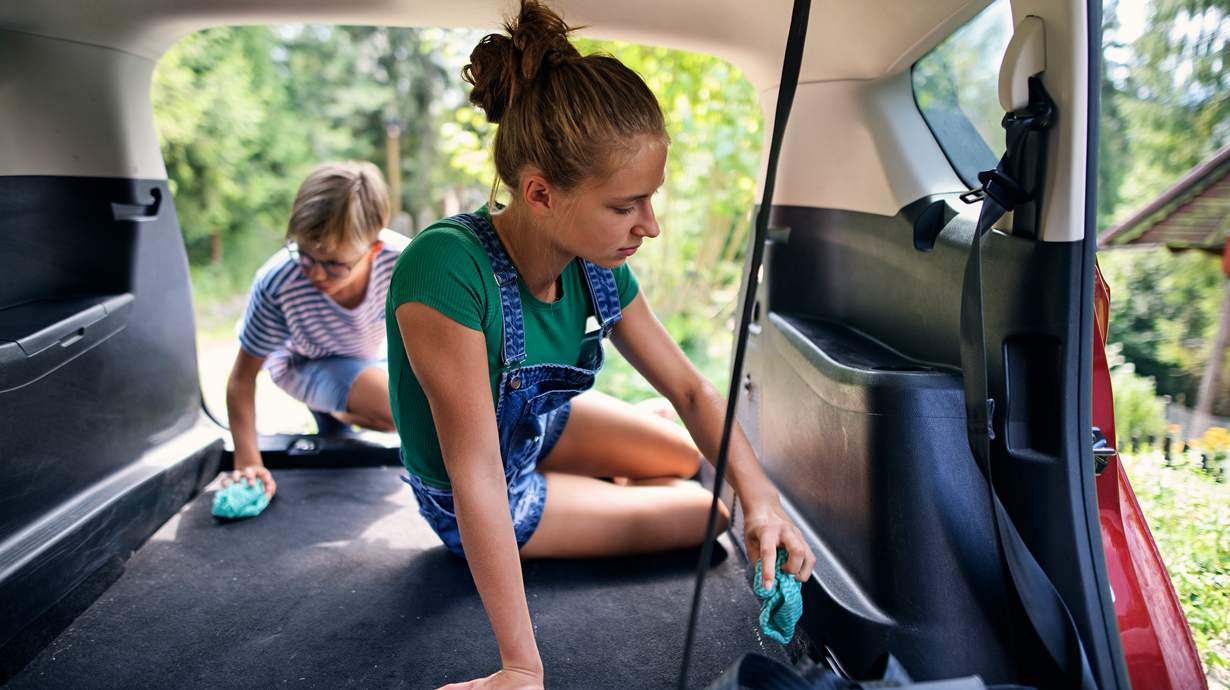 Raising kids to have a keen sense of responsibility at home has never been an easy task, but much has changed when it comes to chores. From teaching toddlers about picking up toys to increasingly complex tasks such as vacuuming, unloading the dishwasher or mowing the lawn, building valuable skills at home helps kids prepare for adulthood by becoming more self-reliant.
Meanwhile, today's kids are digital natives who comfortably navigate technology from a very young age. From tablets and phones to smart TVs, kids grow up surrounded by tech that unavoidably impacts their day-to-day experiences and tasks. However, not only are children's lives immensely shaped by these new advancements, parents have also been required—or at least compelled—to incorporate new technology into their parenting.
Today's parents are using digital tools to streamline, motivate and engage their children in routine behaviors such as chores and allowances, concepts ingrained in families' daily lives that are being redefined by technology. Here are a few ways parents are using tech, and what you should look for when considering adding tech to the daily digital routine.
Financial literacy
Of all the responsibilities parents need to teach their children about, financial responsibility is front and center. Most kids' money habits are set by the age of 7, indicating that it's never too early to start learning good financial habits.
Nowadays, most transactions kids see are done digitally via credit or debit. They see that items can be purchased with the click of a button. But spending and savings do not always work together as easily.
What to look for: There are many apps out there that help parents teach smart money habits. Parents should seek apps that offer monitoring and parent-controlled privacy settings. Choose tools that allow you to explore budgeting and financial topics together while helping kids set short-term and long-term goals.
Allowances
Providing allowances is just one way you can help teach your kids smart money habits. With allowance apps like Family Money, parents can further streamline rewards. These apps allow your kids to learn about digital money habits as they make their own purchases with their prepaid debit card and an app you control.
With apps, you can easily and safely transfer recurring allowances to your children. Owning their own money gives them the independence and sense of responsibility to make their own decisions about how to spend it and to learn the concept of budgeting, all while you manage from the sidelines.
What to look for: Apps with a companion debit card that parents control. Avoid apps with retail partnerships that encourage kids to spend at those partner stores. The goal is learning how to earn and manage money. All Family Money offerings have security and the protection of your kids in mind. Parents can determine how much kids get and where they can spend it, and the card can easily be locked if lost. In addition, Verizon provides secure transfers, and Family Money is FDIC insured.
Chores
Allowances are frequently tied to helping around the house. In other words, doing chores. Chores are crucial for teaching kids different life skills. They teach them the rewards of working hard and can help shape their work ethic. 
For kids 6 – 8, there is a wide variety of chore or task apps that can introduce them to the concepts of chores and accountability.
For kids 8 – 10, the GizmoPal offers the ability to create task lists with goals that can be tracked—making it easy to reward kids for their efforts.
What to look for: For chores, ease of use ranks highly, alongside notifications. There are even apps that gamify the experience, making it more likely for kids to engage—and actually complete their chores. Family Money makes this process seamless for your family and helps keep you organized. The app lets parents review, approve, and then pay kids for a job well done, all within one app. In addition, Family Money encourages kids to earn extra money by offering bonuses when completing additional chores. Getting paid for fulfilling chores helps them understand that money is earned through hard work—it's not simply a given. 
Wearables
Wearables are a great digital solution to introduce your kids to some of these concepts and simplify family life. Easy to use and loaded with management tools, wearables are the perfect steppingstone for kids ages 6 – 10 to learn responsibility and accountability before adopting additional technology, such as their own smartphone. Many apps can be used on wearables, including the GizmoPal.
What to look for: Simplicity for parents and kids alike. With an easy-to-use wearable, kids gain a little independence and parents gain peace of mind. Parents can use the GizmoHub app to set chores and tasks, making it a robust tool for building self-sufficiency.
Ingraining the importance of personal responsibility in kids is critical for their future success in school, the workplace and society. The technological world we live in provides parents with many great tools to be successful in doing so. So why not take advantage?
Ready to manage chores and allowance from one easy app? Try Family Money free for 30 days.