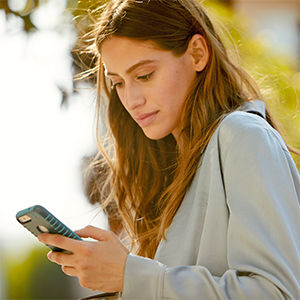 The best way to avoid the potential pitfalls of shopping used is to buy directly from your carrier. Verizon sells many Certified Pre-Owned devices that are guaranteed to work on the Verizon Network. All Verizon Certified Pre-Owned devices are 100% fully functional and backed by our Total Quality Inspection. Our technicians examine:
Power: battery charges up and the battery charge indicator works
Audio: speakers, microphones and Bluetooth work
Ports: all ports are completely functional and the card slots work
Connectivity: Wi-Fi and other connections all work properly
Display: screen images are clear and bright, colors are sharp and each pixel works
Keypad and software: all buttons and the soft keyboard work; software is up to date
Verizon's Certified Pre-Owned phones include a 90-Day Warranty. If you experience a manufacturing defect within 90 days from purchase and activation of Verizon service, Verizon will replace it with a comparable unit.
Certified Pre-Owned phones are also eligible for Total Mobile Protection. Starting at just $12 a month, you can get same-day device replacement and setup, unlimited cracked screen repair, battery replacement and more.
Finding the right phone for you.
Shopping secondhand can be a cost-efficient way to get a new-to-you smartphone. You can score a high-quality phone, perhaps launched only a year earlier, at a great discount. Worried about getting a phone that doesn't deliver on its promises? Buy smarter with Verizon's Certified Pre-Owned program and eliminate the guesswork and risk.