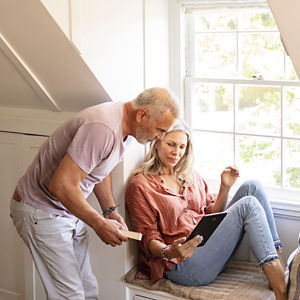 The Digital Secure app offers antivirus, anti-malware, anti-spyware and identity theft protection services. It scans incoming data and gives you a full-screen warning if a virus is detected, allowing you to delete or uninstall a file or app. Digital Secure also reviews apps and rates them based on your data exposure so you can choose to continue using it or remove it.  
Additionally, Digital Secure warns you about scams and malicious activity on websites and monitors privacy/reputation risks on social media. Alerts notify you about connections to unprotected networks or compromised Wi-Fi networks that can potentially be hack risks. The service also provides a virtual private network (VPN) for more secure Wi-Fi connections.
Finally, Digital Secure helps guard personal information (such as credit card details) from being sold or traded online by providing cyber monitoring and step-by-step guidance to identity theft recovery.
The Call Filter app screens incoming calls, blocks spam and more. If there's an unknown incoming number, it gives it a name and a spam risk meter rating. Plus, Call Filter tells you if a caller is a robocall or potential fraud. You can send those spam numbers right to voicemail or block them altogether (including international numbers). If a call slips through, it's easy to report the number or other unwanted numbers and have them added to your spam list.  
The Tech Coach app supplies personalized expert technical support with just one click or phone call. You can get live, US-based expert support for your device and virtually anything it connects to.6
Get started today.

Hackers don't wait to access data — and you shouldn't wait to protect it, either. Verizon's extensive security and protection offerings help keep your personal info under lock and key. To access services such as Digital Secure and Call Filter, tap on "Account," then "Add-ons" and then "essentials" to find the "Device Protection" section. 
1 Visit phoneclaim.com/verizon to check eligibility and repair options available in your area, which are subject to change.  

2 Eligibility is contingent on certain criteria including claim approval time; eligibility determined at time of claim approval.    

3 Provided under the VZW Extended Warranty program; select locations. In Florida, battery replacement provided under the insurance program (device replacement deductible and claim limit applies).    

4 Compatible device required; features included vary by device. Call Filter app required for spam blocking and other enhanced spam protection tools. 

5 OS restrictions apply. Smartphones and network-enabled tablets must be running Android OS 4.4+ or iOS 11+. Digital Secure app download required. iOS is a trademark or registered trademark of Cisco in the US and other countries and is used under license. 

6 The Tech Coach app collects data from the user's device to facilitate certain Tech Coach services, including but not limited to the Tap-to-Call, Tap-to-Chat, and device optimization and insights functionalities. This data is used solely for Tech Coach services. For complete details, see the Tech Coach terms of service. Device must be on and within the Verizon Wireless Data Network Coverage Area for the Tech Coach app to function. Data usage applies for download and use. The self-help and proactive support functionalities are available at no charge for eligible devices.