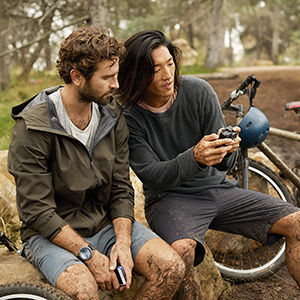 Sure can! Here's the deal: Log in to My Verizon, then go to the Upgrade Device page and click Transfer Upgrade. Select the mobile number you want to upgrade. This will transfer upgrade eligibility to that line. Pick the device you want to upgrade to, click next, and follow the onscreen prompts to complete the remaining steps. Easy! (Just remember, when you transfer eligibility from one line to another, the original line is no longer eligible for the upgrade.)

Can you give me the trade-in rundown?
Verizon's Device Trade-In Program is a great way to give your old phone a new lease on life while getting some money back in the form of a Verizon Wireless gift card. The first step is to do an online appraisal. Once you know how much your device is worth, follow the instructions. When your gift card arrives, use it toward the purchase of a new device or use it on your bill as a way to offset the upgrade fee on the device you have your eye on!
When I upgrade, how do I make sure I don't lose all my contacts, photos and other important stuff?
The safest way to make sure you don't lose anything is to enroll in Verizon Cloud and store all your data there.
Download and install the free Verizon Cloud app on your smartphone to sync and save your important contacts, photos, videos, documents, texts, call logs and more with Verizon Cloud's secure storage. You can even keep all of your cloud-connected devices in sync by setting up automatic Verizon Cloud backups. When you upgrade, just install the app onto your new device and follow the instructions for Content Transfer. Setting up your new phone has never been easier.
If you have a basic phone, you can download Backup Assistant (an earlier version of Verizon Cloud). Follow the instructions on our Support site, and it'll save your contacts to the Backup Assistant server. When you switch to a different device, activate Backup Assistant on your new device to automatically restore all your contacts.