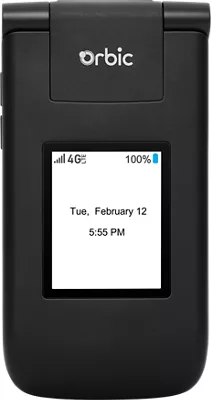 Monthly payments shown are for customers who qualify to pay $0 Down, $2.77/mo for 36 months; 0% APR. Retail price: $99.99. One-time activation fee of $35.
If you're looking for a basic, simple phone experience, turn to the Orbic Journey™ V. Its well-spaced keys and 2 large screens make it easy to view notifications and access your must-have features. Stay powered up with a long-lasting 1400 mAh battery. And enjoy clearer calls with fewer hiccups and reduced background noise. Verizon is your destination for the hottest phones like the Orbic Journey V, all on the nation's most awarded network.
Reviews
161 reviews
of reviewers recommend this product.
Orbic phone sent to my elder mother
Mother Rose · 19 hours ago
Battery goes dead within 12 hrs. Doesn't clear screen whenever you close and open. Speed dial doesn't work. Is Verizon the only carrier changing. Ringer too low. Not many ringtones choices
Lousy Phone
blessed girl · 2 days ago
Pain to set up. Few choices for ring tones and message tones. Reception VERY poor. I I Uses battery power quickly, and cuts off conversation with no warning when battery is low. No flashlight. Can't take a picture from Gallery and use for wallpaper. Can't hear the phone ringing or text alerts. The number 0 is also the space bar! When the phone closes, does not go back to main menu - even the camera will sometimes remain active when the cover closes! Horrible replacement for my previous 3G Kyocera phone!
*Based on average battery life under typical usage conditions. Average expected performance based on typical use. Actual battery life depends on factors such as network, features selected, frequency of calls, and voice, data, and other application usage patterns. Results may vary.