One-Time Bill Payment
Please note that payments made without signing in will be processed by a vendor who will charge a $3.50 service fee per payment. Avoid this fee by signing in or registering for My Verizon.
Make a payment without registering or signing in.
* Required Fields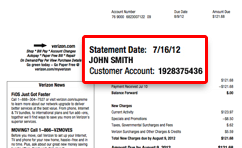 Follow these simple steps to make a One-Time Payment:
Click "Continue" to leave My Verizon and go to Bill Matrix to make a payment. Payments processed by a Bill Matrix will be charged a $3.50 service fee per payment.
Please allow 30 minutes for your payment to be noted on your Verizon account. Notification will update your account and, if applicable, restore service, or stop interruption of service once the full notice amount is paid. There is no need to contact Verizon. Have your bill handy. It contains the account number and zip code that may be required.
Continue