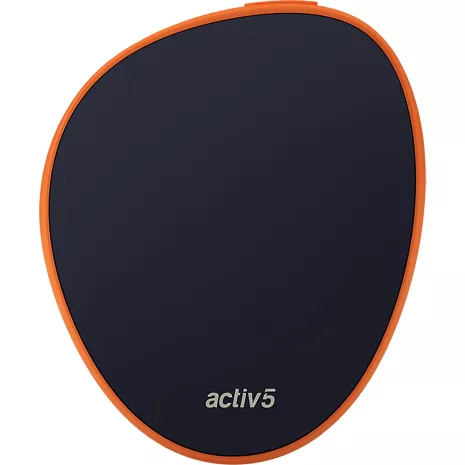 Free returns within 30 days.Details
Bring a personal trainer to you with the Activ5 Portable Workout Device. This portable device combined with the training app creates personalized, 5-minute workouts designed to match your specific needs and fitness level. The app coaches you through low-impact, isometric workouts that vary from seated, standing or even more advanced options for total body strength training. With up to 100 workouts based on your strength level to choose from, you can optimize your fitness routine from the comfort of your own home.

Go further with the app.
The Android or Apple app syncs your workouts with the workout device so you can be coached and track your progress as you train, all for free. It also works with Apple Watch and HealthKit.

A team effort.
The whole household can get in shape. Multiple accounts can sync with the same workout device so everyone is covered.
Reviews
0% of reviewers recommend this product.
Way more fun than i was expecting! sssss
I work at home and travel. I have a low fitness level and a persistent knee injury. I frequently find myself sitting all day, especially if it's cold outside, which exacerbates my knee pain. I've been looking for portable options to add quick activities to my day. There weren't a lot of helpful reviews on this product, but the concept was intriguing and the product seems to be evolving, so I was willing to try it. I hope more people add reviews as I'm curious to hear about long term use experiences. Combined with a jump rope routine, this little gadget seems to be doing its job. I find the app easy to navigate. You can now click through to each exercise without touching the phone. The graphics give you something to focus on and makes things a little more interesting. I'm hoping, going forward, they develop the gaming aspect.