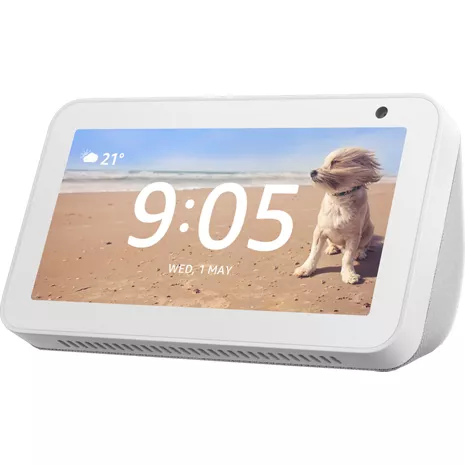 Free returns within 30 days.Details
Overview tab selected 1 of 4
Overview Section Start
The Echo Show 5 is the next generation in Amazon's smart home devices. Designed to be completely customizable, you can make this Wi-Fi* and Bluetooth®† enabled smart screen yours by adding pictures, choosing a clock face, and even creating daily routines. Simply ask Alexa. Cook along with your favorite chef, update your calendar or check the weather. The beautiful digital display is ideal for watching videos or chatting with a long-distant loved one. And if you're looking for a more immersive sound experience, the Echo Show 5 features a 3.5 mm output‡ for stereo quality sound when paired with your speaker system.

Hours of entertainment at your fingertips.
The Echo Show 5 is designed for quality entertainment. Crisp, rich sound and the 5.5" digital display make it easy to enjoy and interact with all your favorite content. Whether you're streaming your favorite playlist or watching the latest trailers for upcoming blockbusters. And with Far-field technology Alexa can hear you from anywhere in the room, even when playing music or a video.

Smart screen for a smart home.
Control lights, adjust thermostats and check security cameras all from the comfort of your seat. This convenient smart screen allows you to voice control compatible devices, making your smart home even smarter.

Stay connected.
Reach out to your friends and family without reaching for your phone. Make voice and video calls to any of your contacts with the Alexa app, a compatible Echo device with a screen or Skype.

Privacy secured.
In addition to keeping an eye on your home security, this smart screen also has layers of built-in protection. Turn the microphone off with the press of a button and slide down the camera's shutter for total privacy.

*Does not support connecting to ad-hoc or peer-to-peer Wi-Fi networks.
†Hands free voice control is not supported for Mac OS X devices. Speakers requiring PIN codes are not supported.
‡3.5 mm cable not included.
Reviews
89% of reviewers recommend this product.
Not a fan
_____KC_____ . 1 year ago
I like having a digital alarm clock. But that's all this does. It's supposed to other home devices but with its version of an "app" but they do not connect after multiple attempts. It's also a bit laggy. So far all it does is play music, tell me time, and gives me funny jokes.
Definately hard of hearing :-(
I have 9 Alexa devices that provide coverage through out my house. This one is by far the worst to pickup my voice. The room it is in has 3 Alexa devices and when I am sitting at my desk where the Echo 5 is one of the other two will answer. Sometime it will not answer even if you yell the wake word. The good part is that it has a screen. This is very useful if you have Ring doorbells. Otherwise I would replace this with one that hears better.