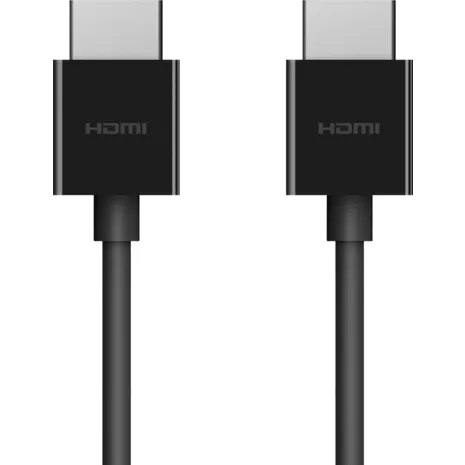 Take your gaming and streaming experience to the next level with the 4K Ultra High Speed HDMI 2.1 Cable. This sturdy cable supports uncompressed 8K at 60Hz and 4K at 120Hz and is HDMI 2.1 Ultra HD certified, which has twice the bandwidth of an HDMI 2.0 cable. Dolby Vision dynamic HDR with variable refresh rates keep your picture looking crisp and clean. And, it even has better quality audio with Enhanced Audio Return Channel (eARC).
Reviews
38% of reviewers recommend this product.
Cable looks nice? sssss
I've been using this cable with an 2021 AppleTV 4K since July 2021. Plugged directly into my LG CX's HDMI 2.1 eARC port. Whenever I watch Dolby Vision content, it randomly blacks out, pauses and freezes. I've tried toggling all pertinent settings in my TV and in the AppleTV AND have updated everything to the latest firmware versions. I finally replaced the Belkin with a certified HDMI 2.1 cable from another brand and the issues went away.
Great 2.1 HDMI cables sssss
Yes, I'd recommend this product.
Works well, backwards compatible so im pretty much future proof for the next few years. I replaced three cables to HDMI 2.1.