Essential Bundle for Galaxy S21+ 5G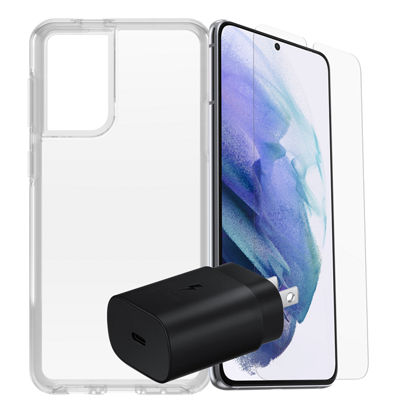 This item is out of stock.
OtterBox Symmetry Series
Put your Samsung Galaxy S21+ 5G 's natural style on display. Sleek, fashionable and highly-protective, the OtterBox Symmetry Clear Series® Case includes beveled edges to better defend your smartphone's screen, and a slim design makes it easy to slip into your handbag or pocket.
OtterBox Alpha Flex Screen Protector
Protect your screen from cracks and scratches with the Alpha Flex Screen Protector for Samsung Galaxy S21+ 5G.
Samsung Fast Charging Wall Charger
Keep your phone fully charged with the 25W Super Fast Wall Charger.
Phone not Included
Reviews
There are no reviews, be the first to write one.