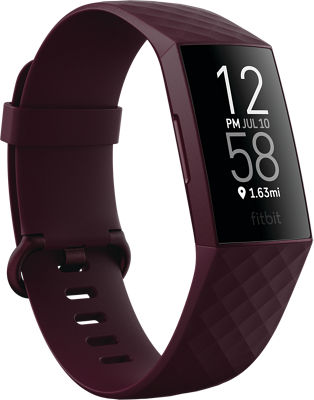 Take your fitness game to the next level with the Fitbit Charge 4. The intuitive touchscreen display makes it easy to see your stats, no matter the lighting conditions. All-day activity tracking gathers the data you need to optimize workouts and reach your goals. The Daily Dashboard includes your steps, calories burned, sleep, heart rate and more. Exercise modes allow you to set a goal for each workout and see real-time progress right on your screen. Built-in GPS* allows you to track your pace and distance on runs and hikes. And, you can personalize your tracker by choosing your own clock face and switching out the traditional band for leather, woven or sports styles.†
Track your heart rate.
Use heart rate tracking to optimize workouts, uncover health trends and keep on top of calories burned to better meet your fitness goals. The app helps you identify optimal heart rate zones with Active Zone Minutes and receive tracker feedback when you've reached your target.
Make a splash.
Wear the Charge 4 from the shower to the pool. This Fitbit is water-resistant up to 50 meters so you can stay on top of your A-game whether it's laps in the pool or lathering up in the shower.
Take a breath.
Take a moment for your mind, not just your body. On-screen guided breathing sessions are based on your heart rate to help you keep your cool.
Stay connected.
Calls, texts, calendar reminders and alert notifications all appear on your screen so you will always be in the know. You can even send quick reply messages without reaching for your phone.‡
Sleep tracking.
Track your time in light, deep and REM sleep stages to work towards better rest. Charge 4 will give you a nightly Sleep Score to help you better understand your sleep quality.
Do more with less charging.
The Charge 4's battery won't quit before you do. Depending on use, this Fitbit has up to 7 days of battery life*, so you can do more without worry.
Move to the music.
Get in the groove with your workout. Use the Spotify app to control your music, like songs and browse recent playlists and podcasts right from your Fitbit.§
Go further with the app.
The Fitbit app helps you get a more complete picture of your health and fitness. Monitor your workout intensity, sleep and hydration as well as manage your fitness dashboard easily from the included Fitbit app. And for women, the female health tracker offers monitoring, tracking and insights into reproductive cycles and more.
Pay on the go.
Make quick purchases on the go with Fitbit Pay™.¹ The in-app Wallet allows you to load with your debit or credit card.
Life, uninterrupted.
Whether you're getting a good night's sleep, or simply need to buckle down and work hard, take the time to disconnect. Sleep mode and Do Not Disturb mode both shut off notifications to help you stay focused.
Keep moving.
Feel yourself slowing down? Keep heading towards your goals with on-screen reminders to encourage you to stay on your feet.
Stay in sync.
The Charge 4 automatically syncs to iOS and Android devices, so that your stats, trends and progress all transfer easily to your Fitbit dashboard.
* Varies with use and other factors; up to 5 hours with continuous GPS.
† Accessories sold separately.
‡ Available when phone is nearby. Quick replies on Android only.
§ Spotify Premium subscription required; not available in all countries.
¹ See availability at fitbit.com/fitbit-pay/banks.
Reviews
23 reviews
of reviewers recommend this product.
Great price and quick delivery
KO retired · 8 months ago
Yes, I'd recommend this product.
I bought this a few weeks ago from Verizon. I had one that I purchased about a year ago and broke it. Verizon had the best price and just added it to my phone bill. I arrived 2 days after I ordered it with free shipping.
Yes, I'd recommend this product.