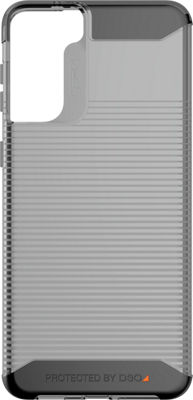 Shield your phone from accidental mishaps with the Havana Case for Galaxy S21 5G. This slim, lightweight case is made with a military-grade polycarbonate material that reinforces the vulnerable areas of your phone, like corners. Manufactured with durable materials and up to 13 feet of drop protection to withstand drops, bumps and dings.¹ And, with the built-in antimicrobial treatment, your phone is safeguarded against most surface germs.

Patented protection.
D3O® material provides advanced protection against knocks and drops. Specifically designed for consumer electronics, D3O is molded into the corners and edges of your case to keep your phone safe.

¹Based on independent testing.
Reviews
7 reviews
of reviewers recommend this product.
Protector did not work - company says "not our problem."
The package said the excerpt provided below my comments. My phone fell out of my pocket the first week (the new phone was a little larger than I was used to). The distance was about 2 feet. This was the first time the phone was dropped. The screen cracked on my brand new pricey phone. When contacted, they basically said that they were sorry, but their statement about 10-feet of protection was not actually a guarantee. Given this attitude, why not say it could be shot our of a cannon? The non-Zagg protector on my old phone did work. Beware of this "protector." It does not live up to its marketing. ----------------------------------------------------- 10 ft of Drop Protection Take on anything that comes your way with confidence, knowing that you've got up to 10 feet (3 meters) of drop protection. D3O®—the same material used by the military and professional athletes—is the key component in our formidable phone protection.
It protected my phone
This case did what it advertised it would do, but I bought a flip case a week later. Liked it better.