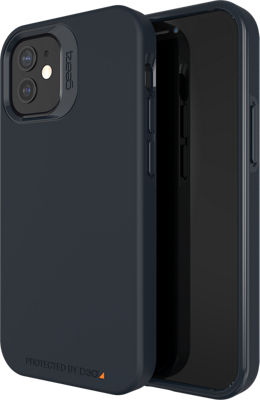 Protect your phone from drops, bumps and dings with the Rio Snap Case for iPhone 12 mini. This sturdy case provides up to 13 feet of drop protection.¹ RepelFlex antimicrobial treatment protects your case against the growth of odor-causing bacteria. And, it has recyclable packaging, so it's also eco-friendly.

Proven to protect.
Count on the proven toughness of D3O energy-absorbing material, scientifically engineered to defend against shocks, knocks and drops. Gear4 cases preserve your phone with the same technology used by athletes, soldiers and motorcyclists for gloves, helmets and other protective materials.

MagSafe compatible.
Rio Snap Case works with the Apple MagSafe charging system. Built-in magnets in the case line up with MagSafe chargers so that you can easily align your phone for wireless charging.

¹Based on independent testing.
Reviews
6 reviews
of reviewers recommend this product.
Great case!
Lindsay S. · 7 months ago
My last 2-3 phone cases have been battery cases, and this is the first time purchasing a phone case which allows you to slide a external battery onto the case, when needing to re-charge, then sliding the battery off when not needed. This is a brilliant idea, since that was always the big downside to the previous battery cases, having a bulkier cell phone case. With this new case, it's as slim as any other case for most of the time, with the advantage of being able to attach the battery to the back of the phone in times of needing to re-charge. I still rely on a charging cable when in my vehicle, and when at home, or in the office. But let's face it, there are still many instances when an external battery is very useful, such as when doing long distance bike rides, or in board meetings, or eating in restaurants, or in the movie theater, etc. It's not always known when you might need a recharge, and this phone case with extra battery (sold separately) gives you peace of mind, knowing that no matter where you're at when your phone gives you the: "Low battery alert", you can simply pull out the extra battery and slide it on, and power up. And extra nice feature is the durable material that the case is made of, D30, which is a very protective material. The claim is that the case can protect your phone from a 13 foot drop, but I have not tested this out, and hope not to.
Nice and Sleek
Awesome case with a sleek back. The MagSafe compatibility is flawless and it has protected my phone from a couple drops already. The rubber seems to really help. My only caveat is that I have a red iPhone and the edges show a little bit on the front and it's uneven. I'd recommend it more for the darker colour iphones.