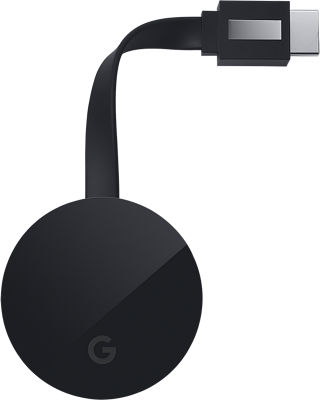 Chromecast Ultra brings Ultra–HD, 4K streaming to your TV*, in a simple, compact package that's easy to install and easy to use. The small Chromecast unit plugs right into your TV's HDMI port and connect's wirelessly to your home's Wi-Fi network. Use your iPhone, iPad, Android–powered phones or tablets, or your laptop, to play shows, movies, music, and games. Your phone acts as your remote control so you can navigate, search content, pause, or skip ahead. Play YouTube videos, catch up on a Netflix binge, or listen to your favorite Spotify playlist. There's over 1000 Cast–enabled apps to choose from. You can even share your screen from your Android phone to share your pictures, home movies, or browse the web.

Chromecast Ultra is the most powerful Chromecast yet. It's capable of streaming and playback at 4K resolution, for crisp, clear, ultra–detailed video.* Don't have a 4K television? The Chromecast adapts to support your TV's maximum resolution, so you get the best video quality possible. A more powerful processor also improves standard HD content, playing video more reliably, with fewer skips and dropped frames.

Easy set-up.
Chromecast is simple. Just plug it directly into your TV's HDMI port. It connects to your Wi–Fi network to link to your devices, so you can stream movies, TV shows, music, and even games. There are over 1000 Cast–enabled apps to choose from.

Ultra-HD streaming.
Stream video content in 4K Ultra–HD resolution.* Chromecast Ultra adapts to your screen to deliver the maximum resolution possible. And it's the most advanced Chromecast model yet, with a powerful processor for smooth playback and fewer dropped frames.

Your phone is your remote.
Just open a Cast–enabled app, tap the cast button, and start watching high-quality content on your TV. You control it all from your phone – pause, search, and navigate so there s no new interface to learn, and no extra remote control to keep track of.
Reviews
2 reviews
of reviewers recommend this product.
Does what ROKU does but don't use Google Home app
Easy to install and use but they try to get you to use the Google App on your phone as a remote. A little warning window advises you that if you sign on and use the app it has access to virtually everything on your phone. Are you kidding me? I'll use my garage door clicker, light switches and thermostat control window rather than share everything with 20something Googleheads.
Hi Loboman, we appreciate your insights about the Google Home app and we understand how important your privacy is. Using the Google Home app provides you with a lot of benefits including access to Google's trusted security platform and access to other Google tools. Google is committed to keeping your data private and safe. The Google Privacy Policy applies to all Google services, including the Google Home app and Google Nest, Google Home, and Chromecast devices. The Google Nest Privacy Help Center article provides more details about how Google Nest connected home devices and services work, and how we collect and use data when you use these devices and services.

If your Web & App Activity is turned on, we save your activity on Google sites and apps (including the Google Home app), to give you more personalized experiences across Google services. You can turn Web & App Activity off at any time by going to myactivity.google.com.

Please visit this help article to learn more about Chromecast, Google Nest and your privacy: https://support.google.com/chromecast/answer/9001232

You may also get in touch with our support team for any inquiries using this link: https://support.google.com/chromecast/gethelp
Great little gadget
I was skeptical at first at how well it would work with my non-smart TV's but OMG love it! I can unplug it and take it to different rooms and still works great. Gave it 4 stars because it needs more apps that are compatible with it without having to have Cable or anything like that. I got this because I'm too cheap to get cable or anything.