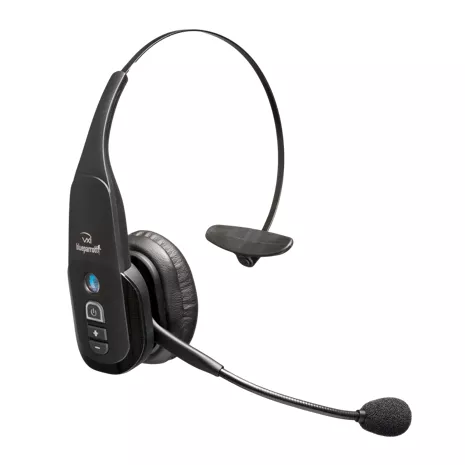 This item is currently only available for Express Pickup. 
Select a store to continue.
Free returns within 30 days.Details
Overview tab selected 1 of 4
Overview Section Start
Advanced noise cancelling and superb sound quality is what users can expect from the BlueParrott® B350-XT Bluetooth® Headset.

It's ideal for those who require frequent hands-free use of their smartphone, such as those who spend a lot of time driving or who need to multi-task.

The headset features a signature Parrott Button™, which can be programmed from your smart phone via the Blue Parrott mobile app, and then used to set your headset to mute, speed dial and more.

Wideband HD voice and audio, an advanced noise-cancelling microphone with Xtreme Noise Suppression™ and a flexible gooseneck mic boom that stays where you put it combine to ensure calls - and your music-come through loud and clear.

Pair the headset with a Bluetooth-enabled device by simply pressing the Multifunction button on the side of the headset. Then, take calls, stream music or GPS directions from the paired device to the headset.

The headset can be used with up to two devices simultaneously. Talk on the headset for up to 24 hours; then easily charge it via the micro USB connection.

What's In the Box
BlueParrott® B350-XT Bluetooth Headset, DC charger, AC Charger
Reviews
50% of reviewers recommend this product.
Good sound, BUT...
Keeping it short and simple. My sound quality is very good; however, some people tell me they can't hear me sometimes. Last but not least, my headband broke and fell out.
OlllllllO approved :)
OlllllllO601 . 4 years ago
Lived in CT which is a hands free state. Continue to use it in TX. Not only is it safe when driving makes it easier to multitask. Great for use in a wrangler with a soft top. I have had the 250 which has less operating time and distance. Never had any issues with it. Used it way longer than it's actual life span. The 350 makes it much easier even in charging it. More features.