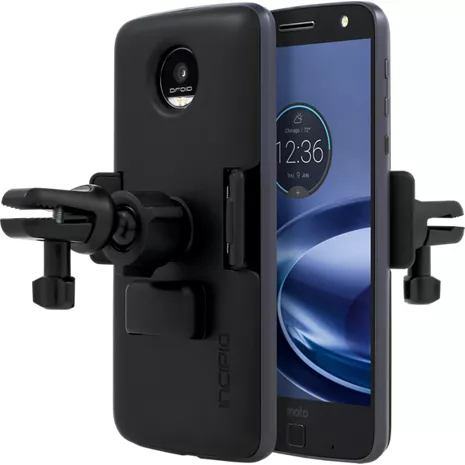 This item is currently only available for Express Pickup. 
Select a store to continue.
Free returns within 30 days.Details
Overview tab selected 1 of 4
Overview Section Start
Enjoy a truly user-friendly, in-car Moto Z experience with the Incipio Vehicle Dock. Designed for Moto Mods-enabled phones, this dock combines hands-free navigation and calling, audio integration and fast charging, all in one unit. Stay focused on the road using the simplified interface and easy-to-use voice commands of Android Auto.™*

Stay entertained.
Hear your favorite music, podcasts and more. The Incipio Vehicle Dock for Moto Z connects to your car's audio system using an AUX cable (sold separately).

Stay focused.
Android Auto's voice command function makes it easy for you to find your destination, control the music or reply to a message while staying on top of what's most important your driving.

Stay charged.
The Vehicle Dock for Moto Z supports up to 15W fast charging with a compatible vehicle power adapter (sold separately).
Reviews
100% of reviewers recommend this product.
Great Dock Bad Mount
Computer Rich . 3 years ago
Yes, I'd recommend this product.
I've had 2 of them for years and I LOVE the dock. I HATE the mount like everyone else. On one of them I used a better mount after sanding the ball down to fit the dock socket. I wish they would come up with a better/stronger mount or be more compatible with other mounting systems. The other annoyance is the auto-launch Android Auto that cannot be turned off no matter the setting. I have all the settings off and it launches anyway. Fix these 2 things or at least the mounting problem and I would offer them at my store.
Excellent Accessory - Unfortunately, it's expensive and fragile.
I purchased this unit in Dec of 2017. Unlike others, I found the vent clip relatively easy to use. I've attached this to the air vent of a 2011 Jeep Grand Cherokee and a 2018 Ford Explorer. It's no harder than any other vent clip that I've found. On the Ford Explorer, I found the vent clip was wide enough that I could attach it to the center dash console door, which I loved because I could keep the USB wire out of site. To use it, you take the back off your MotoZ and attach the phone to the Incipio Car Dock. Couldn't be easier. The reason for the low score is that the mount breaks easily. As I said, I purchased this back in November and within 2 months, the mount broke. I thought I may have been too rough with it when unmounting the phone but fortunately, Verizon replaced it at no charge. Another 2 months have gone by, and it has broken again. This time I was simply getting something out of the console and barely touched the phone. I have not yet reached out to Verizon but will do so shortly.