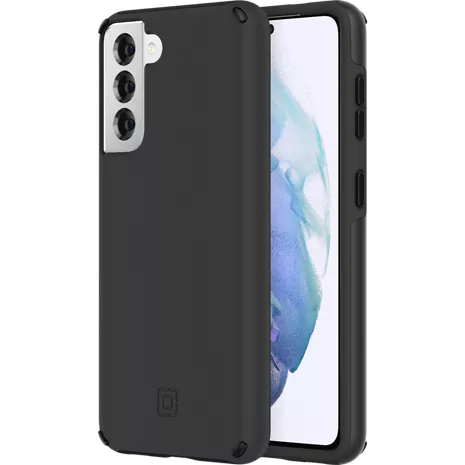 Overview tab selected 1 of 4
Overview Section Start
Protect your phone from drops, bumps and dings with the Duo Case for Samsung Galaxy S21. This sturdy 2-piece case features Incipio's new Impact Strut technology and a 0.7 millimeter raised face-bezel, to provide up to 12 feet of drop protection.¹ The soft-touch and scratch-resistant design keeps your case looking newer, longer and avoids discoloration. The built-in antibacterial treatment reduces bacteria that promote stains and odors by up to 99%. And it's wireless charging compatible, so your case won't interfere with your service or with charging your phone.

¹Based on independent testing.
Reviews
0% of reviewers recommend this product.
Not pleased
Well I hv been with Verizon going on 6 yrs by myself longer counting family but what is going on with u guys I have went thru 17 pgs of cases and all u have IPhone What happened to taking care of ur Galaxy customers Do we not matter I go to upgrade can't get the color phone I actually wanted so I had to settle with what I got and as much as I pay a month u would think Verizon would take better care of there existing customers but I suppose it's about that dollar it use to not be like that But it is now and I have had offers from AT&T and Tmobile to buy my contract out with you and let me get the phone I actually wanted and bill be like 40 bucks cheaper but Verizon is the only phone company I have ever used and seriously don't know why I want change I should cause looking thru 17 PGS of phone cases i believe there was not even 10 for my Galaxy all for IPhone and Motorola OMG Why Verizon Do we not matter anymore
Too flimsy since material stretched too thin
I've had this case for a couple months and it keeps getting caught up in my pocket. Because of the cut out for the camera the corner doesn't have much integrity since the material is stretched too thin. On the plus side, I can take it off and bend it the other way so it doesn't stick out. It works until it gets hung up in my pocket again. I'm waiting for the corner piece to snap off in my hand. I do not recommend this cover.