iRobot Roomba® 694 Wi-Fi Connected Robot Vacuum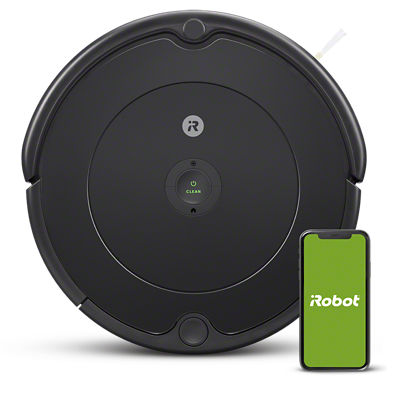 Get it fast
Select shipping options at checkout. Subject to eligibility.
Keep your home clean without lifting a finger with the Roomba® 694 Wi-Fi Connected Robot Vacuum. Designed with 30 years of experience, this convenient robovac helps keep your home clean hands-free. Control and schedule cleanings while on the go with the iRobot® HOME app. And, you can issue commands while busy with Amazon Alexa or Google Assistant.

Loosens, lifts and suctions dirt.
The 3-Stage Cleaning System uses Dual Multi-Surface Brushes, a specially designed Edge-Sweeping Brush and vacuum suction attack everything from small particles to large debris.

Intelligently navigates your home.
Powered by a suite of intelligent sensors, this robot vacuum makes more than 60 decisions per second to adapt to your home and thoroughly clean your floors.

Dirt Detect technology.
Dirt Detect sensors alert the Roomba® robot vacuum to work harder on concentrated areas of dirt, such as the high traffic zones of your home.

Reviews
73 reviews
of reviewers recommend this product.
I do not recommend
It's nice that you can set up at what time you want it to clean your house but I need to keep an eye on the vacuum. It is very noisy and keeps bumping into everything around my house. I feel it will damage my furniture. Also it never goes back to it's dock station, I don't know why but it never finds it. It's an ok product but i would definitely not recommend it.
Hi Karl, we're sorry to hear that your Robot is experiencing such a complex issue, and we'd love the opportunity to help out and resolve it. We have just e-mailed you, so we can provide you with a proper solution.
New Roomba didn't work and support was week
Larry Salit · 10 days ago
After charging my new unit for 24 hours it didn't work. I called tech support and wasn't impressed. The tech first told me I had to remove the battery from my old unit and place it into the new unit. After telling him several times this wasn't a warranty replacement, that I purchased it new, he finally understood. He then tried to walk me through the steps of setting it up with the app. Each time he told me to just press the center "Clean" button. After that failed, he had me take the unit apart and check the battery, which I was unable to remove. However, pressing on the battery seemed to seat it better and it started working. Then we tried to set it up with the app again. After several failed attempts, he asked me if I was sure I was pressing the small buttons on top and below the Clean button. Had he told me that to begin with I may have had better results. Once I got it set up, he told me that my old unit was still under warranty and he could send me out a new motor. As of now he is sending me a replacement unit and a new motor. I wasted about 45 minutes and I am truly sorry I didn't buy it through Amazon, where I could have walked it into my nearby Kohls and just had a new unit sent out. I spent much too much work trying to use their unit and needless to say, I am dissapointed