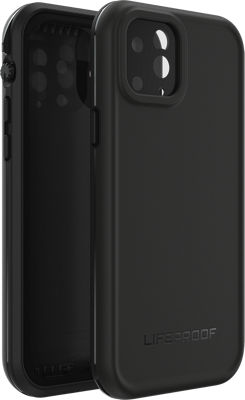 Reinforce your smartphone using powerful FRĒ technology. Defend against scrapes and scratches with a crystal-clear built-in screen protector that preserves the touch and clarity of your device.

Protect your iPhone 11 Pro with The Four Proofs.
Waterproof: Can be submerged at depths up to 6.6 feet for up to 1 hour.*

Dirt-proof: Seals your device against dirt, dust and sand.

Snow-proof: Closes your device off from snow and ice.

Drop-proof: Can endure falls up to 4 feet.**

Preserves your phone's photo and audio clarity.
Keep your photographs distortion-free thanks to the FRĒ's anti-reflective optical-glass lens. Receive maximum acoustic output and clarity using the case's enhanced speaker port.

Thin and light.
Show off your iPhone 11 Pro's natural design with a thin and clear-backed case. The LifeProof FRĒ's screen protector is both slim and subtle. And its design provides full access to your device's features, functions and controls, including Touch ID.

Proven tough.
LifeProof cases are built to physically withstand the drops, fumbles, vibrations and bumps you encounter from day to day. They meet the U.S. Military Standard 810G-516.6 for drop and shock protection. And they're rated IP68: the highest protection rating for solids and liquids. That means they can withstand circulating talc for 8 hours and water immersion at depths up to 6.6 feet (2 meters) for up to 1 hour.*

Total Water Protection Plan.
Stay protected against accidental spills, dunks, plunges and more. Each LifeProof purchase comes with a one-year Total Water Protection Plan. Within one year of purchase, LifeProof will repair or replace your eligible device should it suffer water damage while in the case.†

*IP68 waterproof rating. Can be immersed in water up to 6.6 feet (2 meters) for up to 1 hour.*

†Terms, conditions and service fee apply. Your LifeProof case must be registered within 14 days of the date listed on the original Verizon receipt. Visit https://twpp.lifeproof.com/ for all terms and conditions.
Reviews
There are no reviews, be the first to write one.