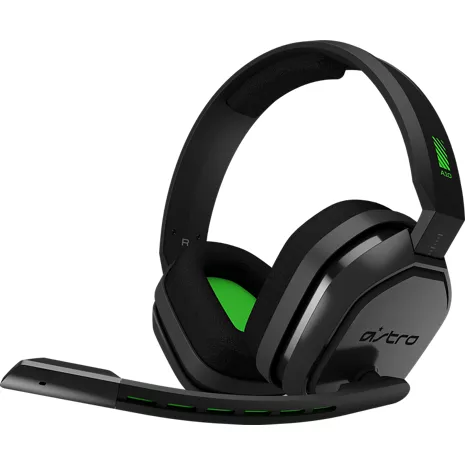 Overview tab selected 1 of 4
Overview Section Start
Take your listening experience to the next level with the ASTRO A10 Wired Stereo Gaming Headset. This lightweight, comfortable headset has a durable aluminum headband with a damage-resistant rubberized cover to withstand wins, losses and everything in between. It connects to any audio source with a 3.5mm jack. And, a uni-directional mic with flip-to-mute functionality means you can communicate with your teammates clearly when needed.

Tuned for gaming.
Immerse yourself in true-to-life detail. ASTRO Audio was developed with pro gamers and game designers for enhanced clarity and detail.

Reviews
0% of reviewers recommend this product.
Eeek
$40 for one ear piece to work. That's crazy.
Logitech - 1 year ago
Hi Cassie, we're sorry to see you're having some audio quality related issues with your Astro A10 for Xbox. Sometimes in order to get sound in both ears, you have to go into the console sound settings and change it to where it pushes all of the game sounds to the headset and not just the party chat audio. Hope that helps. -N from Logitech
Bad Mic
number1hero . 2 years ago
Ordered the mic the other day it came in yesterday, you can only hear out of 1 side unless you constantly replug it in through the actual headset part of it (not the controller). And you can't even talk through the mic. The hearing flip flops so it switches sides depending on how you plug it in but sometimes it works completely. Might just be the one I got but this mic isn't functional. Also the headset just feels cheap. Feels exactly like a $20 headset I've picked up from target or something, the plastic feels weak, the cushion on the headset feels like an itchy sweater and there's no features on the headset itself just a volume slider on the wiring. Do not recommend it.
Logitech - 2 years ago
Hi number1hero, So sorry to hear about the microphone issues that you're having with the A10 Gaming Headset. Here's a link to the product support page for the A10 that should be able to help resolve the issue: https://help.astrogaming.com/hc/en-us/articles/360031104451-A10-Green. Hope that you found this useful and that all is going well. Thank you for choosing Astro. - Richard from Astro/Logitech