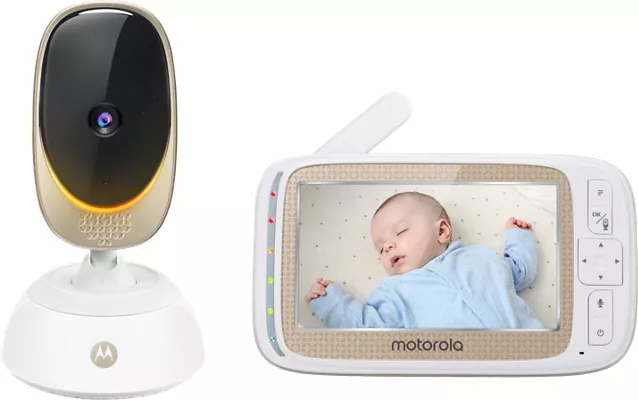 Keep an eye on your little one with the Comfort85 CONNECT Monitor. The camera connects with a rechargeable 5" parent display, that allows you to check in on your bundle of joy from any room in the house, within 1,000 feet.¹ The high sensitivity microphone with 2-way talk lets you hear your child clearly and soothe them with your voice from another room, or communicate with anyone in the room. The multi-color mood light not only calms your baby but also allows you to easily find it in the nursery without turning on the light. Infrared night vision also allows you to monitor the room temperature. And, it features 5 preloaded lullabies to ease your little one off to sleep.

Check-in while on the go.
Stream your monitor feed with remote HD streaming. With a compatible smartphone or tablet, you can view in HD wherever you are.²

Ask for assistance.
You don't have to do it alone. The Comfort85 CONNECT Monitor is compatible with both Amazon Alexa and Google Assistant.

Eye on the prize.
Pair up to 4 cameras to your Parent Unit to keep an eye on multiple rooms in your home. The Comfort85 CONNECT Monitor is compatible with the Comfort85BU CONNECT (sold separately).

Go further with the app.
The Hubble Connected app allows for mobile viewing,³ plays soothing sounds and personal audio recordings and helps chart your little one's growth and schedule. You can also take image snapshots, video recordings, add extra storage and use Share-ubble with a Hubble subscription (starting at $2.99/month).4

¹When there's a clear line of sight between the parent unit and the baby unit.
²Requires wireless connection to the internet and a compatible viewing device.
³Operating system dependent.
4Requires Hubble subscription. Visit hubbleconnected.com/plans to find out more.
Reviews
20 reviews
of reviewers recommend this product.
Great baby camera but needs a bit of improvement
Yes, I'd recommend this product.
[This review was collected as part of a promotion.] I've been using this baby camera for a while now and it has some great features. I love the video quality and size of the huge 5" screen. Monitors that have screens that size are limited. I actually purchased another camera to work with this so I can now see two rooms at once on the screen, which is very convenient and super helpful to keep an eye on several kids. It also has a zoom feature so I can get a closer look at my baby if I need to. Setting this system up was very easy and quick to do alone. I love that it has night time vision so I don't need to wake my baby up, although it is not the best picture quality in the dark. Another issue I noticed is that the temperature recording is not very accurate. Two-way talk is a great way to console my baby and stay connected with my older child. Overall it is still a great product!
Love this baby monitor!
Yes, I'd recommend this product.
[This review was collected as part of a promotion.] I am a stay at home mom and finding time to get things done can be difficult. I started using this baby monitor to keep an eye on my daughter while she is in the living room. I take the monitor with me into the kitchen while I clean or cook and can watch her every move and hear everything she is doing. If she crawls out of the cameras sight I can change the position of the camera to where she is at. This camera even works in the dark so I can watch her sleep or nap in dark areas. If she wakes up or wants some music to listen to i can turn music on without even having to enger the room and disturb her. I charge the monitor once a week and it last for along time before running low on battery. This monitor is great quality and will be useful for many years!