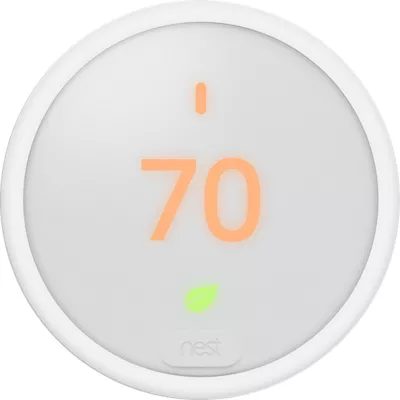 Control the temperature of your home with a smart thermostat that saves energy and adapts to your schedule. The Nest Thermostat E's watercolor-like display is pleasant to look at but subtle enough to blend into the background.

Energy-efficient.
Let your thermostat manage your house's temperature while you're away. It only takes a few days for the Nest Thermostat E to learn your schedule and adjust its settings accordingly. You can even program it to recognize your phone's location and automatically turn the temperature down when you leave the house.

Subtle design.
With an attractive up-close design that seamlessly blends into its environment when you walk away, the Nest Thermostat E doesn't call attention to itself or detract from your home's décor.

Control on the go.
Manage your house's temperature, regardless of whether you're at work, on the beach or enjoying a movie on the couch. The Nest app gives you control of your thermostat from your phone, tablet or computer. You can even view your device's history for a quick way to discover more opportunities to become energy efficient.

Great with other smart home products.
Stay relaxed and get hands-free access to your thermostat when you sync it to your Google Home. Stay alerted and get automatic surveillance footage whenever you're away by combining your Thermostat E with the Nest Cam. And stay safe by pairing with Nest Protect, which communicates with your thermostat to shut off forced air systems and prevent smoke from spreading.
Reviews
4 reviews
of reviewers recommend this product.
Works Perfectly in My Apartment!
Yes, I'd recommend this product.
It's been a couple of weeks now and this thing has been awesome! Definitely recommend, if only Verizon had the Best Thermostat Gen3 I would have gotten that instead! I will say if it isn't working when you get it, you may just need to plug it into a charger to get it going. Then you should be good to go!
Great thermostat
Coolingbliss · 4 years ago
Just installed this thermostat with our new system a few weeks ago and it works great! Just make sure to check the compatibility before you buy it since it doesn't work with every system. Love having access to the temp in the house via the app when I'm away as well.