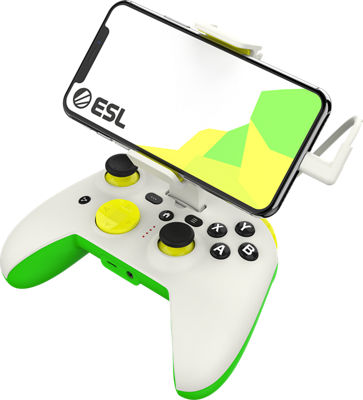 Game while on the go with the RiotPWR ESL Pro Controller for iOS. This compact wired controller allows for latency-free gameplay while on the go. This full-sized controller allows for accurate gameplay. The Lightning receptacle for power-passthrough allows you to charge your iOS device while you're playing. And, the 3.5mm headphone jack is great for plugging in your favorite headphones.

Analog gameplay.
Analog left and right joysticks and L2, R2 triggers allow for smooth, console-like gameplay.

Digital buttons.
Digital A, B, X, Y face buttons, L1, R1 bumpers, L3, R3 clickable thumb-sticks and D-pad and share button allow for super-fast responses and smooth reactions.

Multiple compatibilities.
The controller works with Apple Arcade, PlayStation, Xbox Remote Play or Steam, so you can play any game, any place, any time.

Reviews
There are no reviews, be the first to write one.