Samsung Book Cover for Galaxy Tab S7+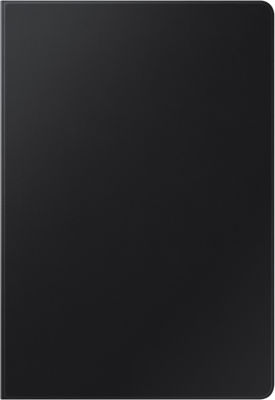 Protect your tablet from drops bumps and dings with the Book Cover for Galaxy Tab S7+. This slim, lightweight case features an inner magnet that makes attaching and removing the case a breeze. The cover turns your tablet on and off as you open and close the case, eliminating wait times and conserving battery life. 2 optimized standing angles for viewing so you always have the best view, whether you're streaming your favorite movie or working with your S Pen. And, speaking of your S Pen, the embedded S Pen holder keeps it close so that it's always there when you need it.
Reviews
3.4/5
18 reviews
56%
of reviewers recommend this product.
Good and Bad
Yes, I'd recommend this product.
this keyboard case is good. i would recommend it. however, there are a couple issues which make it annoying. 1 - when you flip the keyboard over to hold the tablet and use it like a tablet the magnetic connection tends to come apart. 2 - when the keyboard is flipped over and your holding the tablet and using it as a tablet you cannot use the on-screen keyboard. you have to disconnect the keyboard to get the on-screen keyboard to populate unlike the surface pro which knows when it is flipped back and it disables itself. the back kickstand is excellent, reminiscent of the surface pro. i would love to see this exact 2 piece case design except without the keyboard keys, but instead with a slim front flap and the same magnetic back kickstand piece.
Absolutely Perfect - Sleek and Low Profile
Yes, I'd recommend this product.
i bought the mystic black cover for my tab s7+ and i love it. it is very sleek, lightweight and has a low profile - acheived by not putting a pen cover over the back. the pen actually stores in the fold of the cover in a magnetic holder during transport and you can attach the pen to it's charging point on the back anytime you want - just don't forget it's there. i usually mount my pen to the top right of the bezel frame (strong magnetic area there) when i'm using my tablet so that i know where it is when i go to close my case and can put it back in the book cover. great form factor and functionality and i do recommend this case - just put your pen back in the cover fold before you close it up and take it with you.