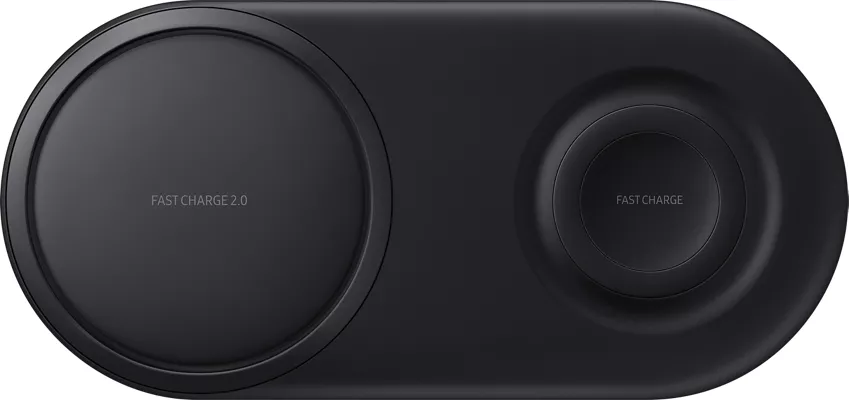 Fuel up 2 of your must-have devices at the same time with the Samsung Wireless Charger Duo Pad. Forget having to keep track of extra cables: the Wireless Charger Duo fuels up your devices on contact using advanced Qi wireless charging.* And it's certified to work with most Qi-compatible phones.
Charge your Samsung smartwatch.
The Wireless Charger Duo doesn't just work with smartphones – it's also compatible with select Samsung smartwatches.
Get out the door quicker.
Experience wireless charging outputs up to 7.5 W, or outputs up to 12 W when charging select Samsung devices.† With the Wireless Charger Duo, you can get Fast Charge speeds for compatible Samsung phones just by placing it on the charging pad.*
*Charging your device wirelessly may require the addition of a wireless charging cover (sold separately) and removal of protective cases. Wireless Fast Charge is compatible with the Galaxy Note5 and Galaxy S6 edge+ and later models of the Galaxy S and Galaxy Note series. Standard charging speed applies to other devices including Galaxy S6 and Galaxy S6 edge. Tested under laboratory conditions. Results may vary.

†Requires included wall charger to operate as advertised. Use of improper power source may result in damage to charging pad. Faster charging speeds compared to Samsung's standard charging speed.

CAUTION! To avoid electric shock and damaging your device, do not charge it while it is wet or near liquids. Do not handle device, charger or cords with wet hands.


WHAT'S IN THE BOX:
One Samsung Wireless Charger Duo
Fast Charge wall charger
USB-C cable
Reviews
8 reviews
of reviewers recommend this product.
DO NOT WASTE YOUR MONEY
MNWILDGIRL · 2 months ago
I used this charger less than a dozen times and it has stopped working. It was very finicky when it did work. You had to have the watch and phone sitting on the pad just right. If they got bumped, they stopped charging. Now, less than 10 charges later it just flashes orange/yellow. I googled it and everything I read said it is toast. I didn't use it daily so I am well passed the return/warrenty period. Very disappointed.
MNWILDGIRL, we appreciate your feedback regarding the Samsung Wireless Charger Pad Duo. We would recommend taking a look at the information available on our website, including the full product manual. You can also reach out to the Samsung Support team for assistance in troubleshooting the device. Please feel free to reach out to us with any further questions regarding your Samsung products. –Elizabeth
Very Disappointed - rip off
Samsung charger · 5 months ago
I bought this charger in Feb 2022 and it stopped working the beginning of April 2022. I have used only the charger that came with it and no damage has been done to the charger. When it worked I had to place my Samsung watch just right or it would not charge and the same goes for my phone. Then all of a sudden the lights were not green they were yellow/orange and it stopped charging my devices. Since it was over 30 days I could not return it or get it replaced. So I paid $100 for a charger that doesn't work.
Hi. Thank you for bringing this to our attention. I see you have some concerns with the Wireless Charger Pad Duo. I sincerely apologize for the inconvenience this has caused you. Please know that we value your feedback. We will continue working on improving the quality of the products we offer. Here are some links for more details to help you maximize the device's potential.

Wireless Charger Trio, White
https://www.samsung.com/us/mobile/mobile-accessories/phones/wireless-charger-pad-trio-white-ep-p6300twegus/?redir=EP-P6300TWEGUS
Product Warranty
https://www.Samsung.com/us/support/warranty/

Should you need more assistance, please feel free to get back to us via the following options:

1. Facebook Messenger: http://m.me/Samsungsupport
2. Twitter: https://twitter.com/messages/compose?recipient_id=18768513
3. Samsung Community: https://us.community.Samsung.com/t5/Samsung-Community/ct-p/us

Reference Number: 1144461620

Have a great day.

^Charles