Verizon Clarity Case & Blue Light Screen Protector Bundle for OnePlus 8 5G UW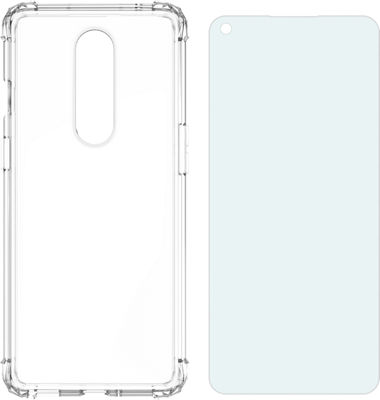 Get it fast
Select shipping options at checkout. Subject to eligibility.
Protect your eyes and your phone with the Clarity Case & Blue Light Screen Protector Bundle for OnePlus 8 5G UW. This case and screen protector bundle shield your phone from impact, keeping away unsightly cracks and dings. And, with built-in antimicrobial protection, your phone screen will stay free from germs.

Eco-safe case.
The Clarity case is made from sustainable, plant-based materials. This eco-friendly design absorbs shock while guarding the surface of your phone.

True color screen protector.
The included screen protector filters high-energy blue light to help protect your eyes. The true color display provides scratch and smudge resistance, without dimming or distorting the colors of your screen.

Easy application.
The included Applicator Tool makes it easy to install your screen protector without any bubbles or bumps.
Reviews
2 reviews
of reviewers recommend this product.
Terrible fitting case and looks terrible
I purchased the case and the screen protector with the phone as a bundle. Too bad the phone comes with a screen protector already installed. If I knew that I would have picked something else. After a couple months the case is so scratched it looks terrible and its such a tight fit I can't get it off the phone to replace it.
Terrible screen protectors.
I bought this case because it came with screen protectors as well, and it was one of the limited options for the Verizon OnePlus 8. The screen protectors have to be cut in order to even be put on, and then are a mess to actually install. Then when they're on your phone they make everything so blurry, it completely ruins the display. The case is fine, but after 2 weeks it's already scratched so much it's not clear anymore. I would give this product 0 stars if I could. Too bad I can't return it, because I can't have my phone without a case and the only cases available for this phone are from Verizon's online store. TL;DR: sucky quality. Don't buy it.