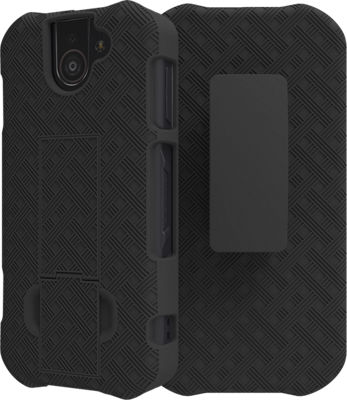 The Shell Holster Combo provides protection and convenience for your Kyocera Duraforce Pro 2. Defend against scrapes, dirt, and daily wear and tear with the rubberized shell. Enjoy convenient portability using the holster. A pivoting 180-degree belt clip allows for a secure attachment and comfortable positioning. Clip it to your belt, purse strap or backpack. And get an extra-secure grip on your Kyocera Duraforce Pro 2 using the case's rubberized texture.
Reviews
7 reviews
of reviewers recommend this product.
Overall good case
Yes, I'd recommend this product.
Case is slightly bigger than my older Kyocera Duroforce Pro phone, but still funtions. Cases last about 18-24 months for me; this purchase I noticed the cutout for the light on the back was moved to the right side of the camera lens, last one I bought it was on the left side which is where my light is. Not sure why that changed; had to drill out a notch so the light would be usable. Otherwise the case is good.
Holster Combo for Kyocera Duraforce Pro 2
The case was perfect before they added rubber coating. They did not take into consideration the thickness difference. It is very hard to remove phone to use. Was thinking of trying some dry lubrication.