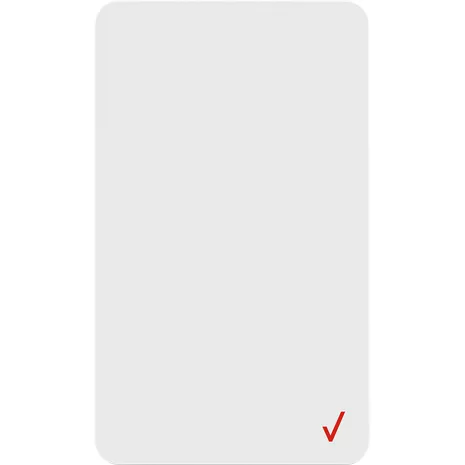 The Wi-Fi Extender Mini is an 802.11ax Wi-Fi extender that supports the latest Wi-Fi technology. It offers seamless roaming, band steering, and Self-Organizing Networks (SON) technology. Wi-Fi Extender Mini is the first mini extender in the market that supports 2.4GHz, 5GHz and 6GHz (Wi-Fi 6E). The wall-mounted design enables an easy plug-and-connect experience to extend the seamless connectivity in your home.

Designed for Wi-Fi 6E.
The latest Wi-Fi generation, Wi-Fi 6E, adds support for 6GHz, providing more spectrum for better coverage and lower latency.¹

Extends Wi-Fi coverage.
True Tri-Band Wi-Fi 6E includes 2x(2x2) (2.4, 5 GHz) and 1x(4x4) (6 GHz) antennas that receive the Wi-Fi signal from your Verizon Router and extend Wi-Fi coverage. This allows you to operate with a single Wi-Fi network name with Self-Organizing Network Functionality.

Automatic band-steering and access-point steering.
Your devices will be automatically connected to the strongest Wi-Fi signal available nearby. Whether it s a router or extender, they will automatically connect to the best signal available and transition to use the best access point.

Easy to install.
Your Wi-Fi Extender Mini plugs into the wall with no additional wires needed. And, you can add up to 5 extenders to provide the best coverage for your home.

¹The Wi-Fi Extender Mini is designed to extend your router's Wi-Fi coverage, not to increase your Wi-Fi speed. Actual Wi-Fi speeds will vary due to network and environmental factors, including network traffic volume, building materials, device demands, and network overhead.
Reviews
7% of reviewers recommend this product.
5G Home Mini Extender sssss
Worthless. Won't connect with 5G Home Router.
Extender sssss
Bought a $200 extender years ago because the line for service is literally our driveway. We have to go out to the road to get service. When you look at the map there is a white spot over our property only. Extender worked until this year. Was told I'd have to buy a new one but I don't believe I should have to get another one when cell towers can be boosted. I already pay too much for service after being a customer for 30 years and I don't get any of the deal new people get. I hold 6 lines for Verizon on a family plan with 3 elderly people who can't afford yet anther increase.