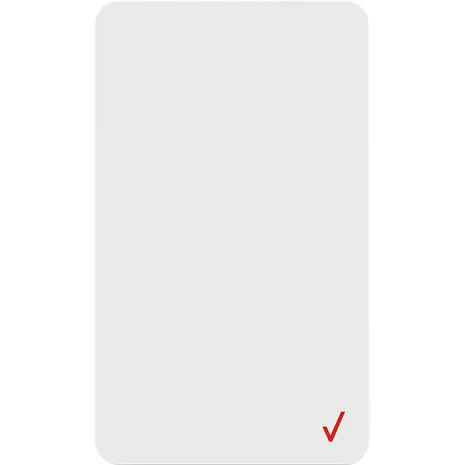 Overview tab selected 1 of 4
Overview Section Start
The Wi-Fi Extender Mini is an 802.11ax Wi-Fi extender that supports the latest Wi-Fi technology. It offers seamless roaming, band steering, and Self-Organizing Networks (SON) technology. Wi-Fi Extender Mini is the first mini extender in the market that supports 2.4GHz, 5GHz and 6GHz (Wi-Fi 6E). The wall-mounted design enables an easy plug-and-connect experience to extend the seamless connectivity in your home.

Designed for Wi-Fi 6E.
The latest Wi-Fi generation, Wi-Fi 6E, adds support for 6GHz, providing more spectrum for better coverage and lower latency.¹

Extends Wi-Fi coverage.
True Tri-Band Wi-Fi 6E includes 2x(2x2) (2.4, 5 GHz) and 1x(4x4) (6 GHz) antennas that receive the Wi-Fi signal from your Verizon Router and extend Wi-Fi coverage. This allows you to operate with a single Wi-Fi network name with Self-Organizing Network Functionality.

Automatic band-steering and access-point steering.
Your devices will be automatically connected to the strongest Wi-Fi signal available nearby. Whether it s a router or extender, they will automatically connect to the best signal available and transition to use the best access point.

Easy to install.
Your Wi-Fi Extender Mini plugs into the wall with no additional wires needed. And, you can add up to 5 extenders to provide the best coverage for your home.

¹The Wi-Fi Extender Mini is designed to extend your router's Wi-Fi coverage, not to increase your Wi-Fi speed. Actual Wi-Fi speeds will vary due to network and environmental factors, including network traffic volume, building materials, device demands, and network overhead.
Reviews
6% of reviewers recommend this product.
Doesn't work. Tried everything
Got this for free from Verizon because my fios wifi doesn't extend well to upstairs. The setup just doesn't work. I've tried everything. Ended up discarding it and purchasing a better one on Amazon. Very disappointed with Verizon's "whole home wifi" marketing.
Should the mini extender be listed under my network to show me it is connected or paired with the wireless 5G wifi gateway-please reply Thank you.
I am not please at all, l have tried to pair it with the gateway 5G I can't tell any difference in coverage.