Verizon Wireless Charger USB-C Power Bundle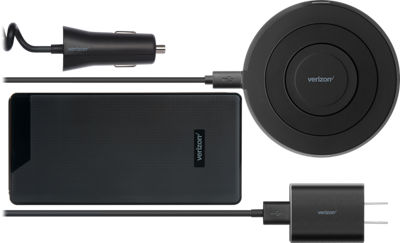 Get it fast
Select shipping options at checkout. Subject to eligibility.
Get extra power for your entire day with these helpful charging accessories. Designed to give you the most battery life for your smartphones, tablets and other USB-C devices, all 3 items feature a helpful LED power and charging status indicator.

10,000 mAh Universal Portable Power Bank.
Stay prepared with a conveniently portable power bank you can carry in your handbag, backpack and more. Take advantage of a high-capacity battery that keeps phones and tablets fueled for hours on end.

USB-C Car Charger.
Bring your smartphone back to full while you're on the way to work or in the middle of a big trip. The USB-C Car Charger features a reversible connector for a quick and convenient way to plug in. Just extend its 6-foot coiled cable to easily accommodate passengers in other seats.

Qi Wireless Charger with Fast Charge Wall Charger.
Enjoy a wire-free, reliable charge with this compact and slim accessory. Qi-certified by the Wireless Power Consortium (WPC), it keeps your device secure and in place using an anti-slip silicone ring. The Qi Wireless Charger is soft to the touch and supports Fast Charging for compatible devices.
Reviews
3.3/5
10 reviews
40%
of reviewers recommend this product.
Outstanding!
Yes, I'd recommend this product.
Today used the power bank for the first time (power out while utility co. replaces transformer) since purchasing it in July of 2019 as part of a USB-C combo pack. It both kept its charge at 100% while dormant for more than a year and is charging my device at an alarmingly fast rate while using minimal output (i.e., phone percentage up 30% and power bank only down 19%). Was fortunate to today find online the same combo pack, which my husband purchased a bit ago so that we will both be able to benefit from this phenomenal product. The car charger and Qi wireless charger will likely perform as well. Thanks, Verizon!