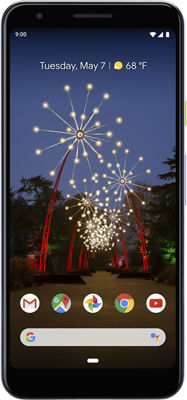 This device is no longer available for purchase.
Introducing the Google Pixel 3a. The convenience of Google Assistant. The confidence of a custom-made Titan M security chip. And the power of a 7-hour Adaptive Battery.4 All on a smartphone with advanced camera features like Night Sight and Portrait Mode. The Google Pixel 3a comes in Just Black and Purple-ish colors (subject to availability). Unleash its full potential with Verizon, the nation's most awarded network.
Reviews
3.0/5
32 Reviews
41%
of reviewers recommend this product.
Wow
Isaac - 10 months ago
Yes, I'd recommend this product.
I'm typing on the phone right now and I just got it yesterday. This phone is way better than you think! Having a camera that can scan anything and tell you it can buy it is amazing! And whenever I need help I can just squeeze my phone and the Google assistant is there! And the camera is over the top. Overall this is the best budget phone ever!
Best phone at the best price!
dave818 - 1 year ago
Yes, I'd recommend this product.
I just got the Pixel 3a and I LOVE THIS PHONE. I went from Pixel to Pixel 3a and see a huge difference. It's also very fast and charges quickly. I recommend this for anyone who's looking for a great phone without spending so much money.
I like it very much
Stardog2 - 1 year ago
Yes, I'd recommend this product.
I upgraded from a much loved Motorola Z2 Play. It was still functional, but for some reason, had trouble connecting to my new hearing aids (Resound Quattro). ThePixel 3a connects quickly and reliably to my hearing aids. The phone is smooth and responsive in operation, and the screen is incredible. Battery life is better than my Moto Z2 Play, but that battery is pretty old. No Verizon installed apps that can't be removed burned into ROM. That alone is worth the price of admission. The biggest drawback is the lack of a 128 GB version or a micro SD slot. Google clearly expects you to rely heavily on Google Drive. We'll see how that works out for me. I store my music on OneDrive, but luckily, I found a music player app that can stream from OneDrive. So far, I like it very much.
This phone meets all my needs and the camera is amazing!
Michael R - 1 year ago
Yes, I'd recommend this product.
I replaced my Pixel 2 with the 3a. This phone meets all my needs. It allows me to text, take phone calls, and the pictures are amazing. I use the camera to take photos mainly of my young son and it's been great to print out high quality photos that I can frame. We rarely use our fancy camera any more because of it. The battery life lasts all day and I embarrassingly check my phone hundreds of times throughout the day. The best part? The price! This phone costs half as much as 'premium' phones and delivers everything I need. I recommend this phone and will be buying my wife one as well in the near future.
Pound for Pound King
Keitho - 1 year ago
Yes, I'd recommend this product.
Performs very well for mid-range phone. It has an insanely good camera that is better than a lot of thousand dollar phones, great suite of apps, pretty good battery life.
Best buy
Copedawg - 1 year ago
Yes, I'd recommend this product.
Bought this phone to replace my original pixel3xl... I'm in love One of the best buys I've gotten in the last 5 years. It's made for some one like me. An awesome phone which stays up to date and an awesome camera. Seems as long as I take care of it and don't go swimming with it the pixel3a is worth it
1 Charging rates are based upon use of the included charger. Actual results may vary.
2 Google Photos offers free unlimited online storage for all photos and videos uploaded in high quality. Photos and videos uploaded in high quality may be compressed or resized. Requires Google Account. Data rates may apply. g.co/help/photostorage
3 US and Canada only. English only.
4 Approximate battery life based on a mix of talk, data, standby, mobile hotspot and use of other features, with always on display off. An active display or data usage will decrease battery life. Charging rates are based upon use of the included charger. Actual results may vary.
5 Android version updates for at least 3 years from when the device first became available on the Google Store. See g.co/pixel/updates for details.
6 See g.co/pixel/security for additional security information.
7 Some third-party apps and data may not be transferred automatically. Visit g.co/pixel/help for information.