Existing user?
Sign in to manage & troubleshoot your services.
The PowerReserve device is used with an Optical Network Terminal (ONT) configured with a Power Adaptor. With 12 fresh D-Cell or "flashlight" batteries, the PowerReserve provides at least 24 hours of backup power for basic voice service, including 911 dialing, in the event of a power outage.
Note: The Verizon technician will be able to tell you during installation if your services of  your equipment is compatible with PowerReserve.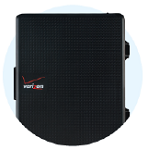 Frequently Asked Questions

How do I install my PowerReserve device?

How do I monitor and maintain my batteries?

Will the PowerReserve provide battery backup for Internet and TV service in the event of a power outage?

How do I order a replacement PowerReserve device?