Existing user?
Sign in to manage & troubleshoot your services.
The PowerReserve device is used with an Optical Network Terminal (ONT) configured with a Power Adaptor. With 12 fresh D-Cell or "flashlight" batteries, the PowerReserve provides at least 24 hours of backup power for basic voice service, including 911 dialing, in the event of a power outage.
Note: The Verizon technician will be able to tell you during installation if your services of  your equipment is compatible with PowerReserve.
NOTE : If you use Verizon's fiber optic voice service to connect your alarm or fire system to a central monitoring station, you have the option to receive email and/or text message notifications when (1) commercial power to your equipment is lost, and (2) when your backup power has exhausted. Notification of the exhaustion of backup power requires a Verizon-provided Battery Backup Unit or Power Reserve. Please log in to your account at verizon.com to update your account profile with this information. You can also update your account profile by calling 800.Verizon (800.837.4966).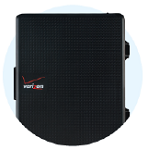 Frequently Asked Questions

How do I install my PowerReserve device?

How do I monitor and maintain my batteries?

Will the PowerReserve provide battery backup for Internet and TV service in the event of a power outage?

How do I order a replacement PowerReserve device?