Technology
The future of
the tech industry?

A human.
A great technology company is powered by great technology, and by great people who push the boundaries, create solutions from scratch and turn big data into smart insights. Be the face of the digital world.
Information technology
People who thrive here:
Techies who can transform the way we work on the inside to improve the experience we deliver on the outside.
Developers, cloud architects, data scientists, quality assurance pros, solutions architects, system integrators and more.
Collaborative team players and innovators who love working with the latest technology.
Software engineering
People who thrive here:
Designers, coders and testers with "start up" energy and drive.
Software experts who define, build and deploy disruptive technology.
Innovators who create new products and services for customers.
Network engineering
People who thrive here:
Innovators designing and supporting the nation's largest, most reliable 4G LTE network and the future of 5G today.
Curious engineers ready to build, test and deploy the network that powers safer communities and smarter futures.
Architects who can design next-gen networks today.
Cybersecurity
People who thrive here:
Techies with one foot firmly planted in the security realm, and the other in DevOps automation―plus a mind truly in the AWS cloud.
Cloud Security Developers and DevOps Engineers eager to take us on our "Public Cloud First" journey – helping us finely intertwine DevOps automation and security for the benefit of all.
Great communicators and innovators who can help customers understand security issues, and use code to do incredible things.
Research and development
People who thrive here:
Inquisitive trendsetters passionate about the technologies of the future.
Innovators in interactive entertainment, digital media, internet of things, smart cities and internet services.
Architects who create prototypes for the platforms and applications powering Verizon's new products and services.
Field operations
People who thrive here:
Customer-focused team players proud to support our award winning networks.
Critical thinkers and troubleshooters who love tackling new challenges every day.
Network installers, testers and repair pros.

National Engineers Week: Profiles of Verizon Engineers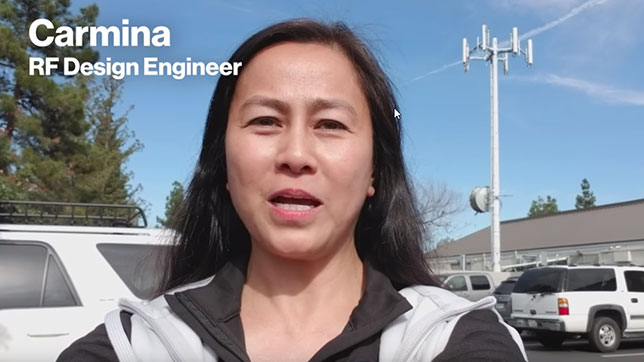 Come innovate with us.
There's a creator inside everyone―unleash yours with a career in technology.
Join the technology talent network.
No glass ceilings. Just bright ideas.