Military
We don't just thank
service members.

We hire them.

#Proud2bVZVets
Headline
CEO Commitment to Military Hires
Description
"As a leading global communications technology company, Verizon is always looking for strong leaders to help us stay competitive in the marketplace. With their superb training, discipline and experience supporting our country, our more than 11,000 veterans contribute their skills across our entire business to help us to be the best in the industry. As a US Navy veteran, many of the lessons learned helped shape me as a leader and I'm proud to stand with the thousands of Verizon employees who've served both our country and our company with integrity and honor."
Lowell C. McAdam
Chairman and Chief Executive Officer
Ranked
#1
2018 Military Friendly® Company
More than
11K
veterans are now employees at Verizon
Military recruiting events
172
attended by Verizon in 2017
Why Verizon hires veterans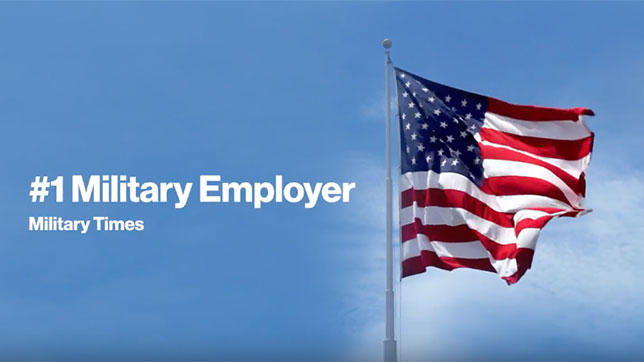 George Riggins
Vice President - Core Network Engineering
Verizon is extremely military friendly. I never worried for one second if my position would be here when I returned from deployment.
Kat Hardy
Senior Manager, Threat Intelligence
I'm proud to work at a company that has such a commitment to hiring and developing military veterans and families.
Amber Malouf
Specialist-Retail, Small/Medium Business
A family. It's what I was used to in the military and it's what I found in Verizon.
Military Talent Network
Courage takes work. Join our team.
Join our Military Talent Network
Military Spouse Talent Network
We're committed to helping those who support our troops. 
Join our Military Spouse Talent Network
Contact a Recruiter
Talk to our military recruiters today.
Get in touch
Tools and resources
Translate your military skills into a civilian resume by following these tips from our Military Recruitment Team.
Our military skills matcher tool lets you search for careers in Verizon that closely match your military experience.
It's our turn to serve you, make the most of the best network.
Questions? We've got answers.
Search by Military Installation
With 150 locations around the world, career opportunities at Verizon are closer than you think.

Search here for openings near your military installation.
Awards
Our Partners