Apply your
military
skills here.
We don't just thank service members.
We hire them.
#Thanks2Vets
Ready for your
next assignment?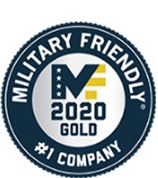 As a leading communications technology company, Verizon is always looking for experienced leaders to step forward and help us stay competitive in the global marketplace.
More than 10,000 veterans contribute their skills across our entire business. We're proud to work alongside them each day – and fortunate to benefit from their outstanding skills, discipline and experience.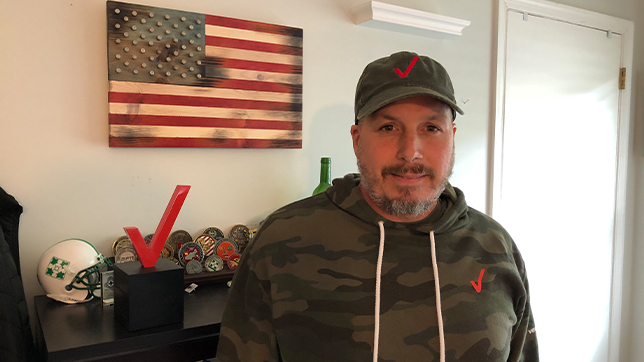 New Apparel: Giving back this Military Appreciation Month.
This month, Verizon is rolling out new military apparel as part of our efforts to give back to the military community. A portion of the proceeds will be donated to veteran nonprofit organizations, including FourBlock, Mission 22, and Semper K9. Shop our new military apparel here.
Our commitment to service members is reflected in our workforce.
Military Friendly® Company

currently employed at Verizon

won from 2018–2020 for our support of vets
Real stories from real veterans like you. Learn how they transitioned from the military to Verizon.
Hear what Army Veteran and VP of Network Engineering George Riggins has to say about his role in helping people stay connected in a changing world.

Watch U.S. Air Force Veteran and Operations Manager Barbie Richardson discuss how Verizon has helped her transition from military to civilian life since day one.

Hear from Army vet and Verizon Fleet Operations Supervisor Lloyd Cook as he talks about bringing his military values, like selfless service, to his career here.

V Teamer and Navy Veteran Brittany Baker found transitioning from the military to a career at Verizon focused on the same attributes - service to others.

When U.S. Navy Veteran Scott Hendrix joined Verizon fresh out of the military, he gained a new perspective on the civilian sector. Today, he is an HRBP Director tackling new and exciting challenges every day. Learn more about how Scott's role at Verizon pushes him to new heights.

Hear what Dana Cahill, HR Business Partner, and Military Spouse, has to say about opportunity, the ability to follow your interests and Verizon's collaborative culture.

Watch 20-year V Teamer Grant Fields share his story on how Verizon played a significant role during his transition from the military to the civilian workforce.

For Military Appreciation Month, 225 Verizon employees participated in a Flags of Valor community activity. Flags of Valor, a veteran-owned and operated company, and Verizon, donated the flags to the Asheville, North Carolina community.

Watch Navy Veteran and Director of Engineering (East Coast) Stacy McGarr talk about how Verizon helped her jump back into life outside of the military.

Verizon has been named the #1 Military Friendly company for three consecutive years. Watch Veteran and V Teamer Natalie Perez discuss what makes Verizon different when it comes to hiring veterans and military employees.
It's our turn to serve you. That's why we've created a suite of tools to help you get the job you want.
Military skills matcher
Verizon's military skills matcher allows you to search careers that closely match with your military experience. This custom tool suggests jobs based on your functional interests, location and branch of service.
Search by military installation
With 150 locations around the world, career opportunities at Verizon are closer than you think. Search here for openings near your military installation.
Military events calendar
Verizon is committed to the military community. We have a dedicated military recruitment team that helps assist veterans, current military service members and their military spouse/domestic partners with employment opportunities.
The Verizon military recruitment team attends career fairs, virtual events, open houses and more. Take a look at the places we will be attending and come out to meet us.
Event Name
Location
Date
Fort Gordon Career Summit & Amplify (Verizon Sponsoring)
Fort Gordon-GA
Jun 23, 2020,

Open/Close

Amplify
Virtual-
Jun 25, 2020,

Open/Close
Hear what veterans have to say about finding a rewarding career and a home at Verizon.
HR Business Partner, Military Spouse

"The opportunities are endless… you're never locked into one position. Your career is what you make it."

VP- Network Engineering, Army Veteran

"Don't underestimate yourself. You have skills that will transition, and the training will provide the rest."

Analyst – Marketing, Military Spouse and Army Veteran

"I've had leaders and mentors who've empowered me to do what I felt my passion was, and to explore those options."
Proud to serve
you and it shows.
We're honored to be recognized for our commitment to serving the military community. We do more because you deserve nothing less.
Our partners
make us stronger.
Putting our military first is a team effort. That's why we've joined forces with these amazing organizations.