What is
private 5G?
Private 5G is a network that allows large enterprise and public sector customers to bring a custom-tailored 5G experience to indoor or outdoor facilities where high-speed, high-capacity, and low-latency connectivity is crucial—regardless of whether or not the premises is within a public 5G coverage area. It also addresses the need for dedicated bandwidth capacity and range, security, high-quality connections and consistent, always-on service to help reduce downtime.
Why do you need private 5G?
Existing networks are already struggling to handle current business connectivity needs, and 5G is being developed to help manage the growth in an era when business operations will be increasingly reliant on the speed of technology for automation and the internet of things (IoT).
What can private 5G do for your business?
Private 5G will help transform customer experiences while inspiring new business initiatives, such as the factory of the future, automated guided vehicles (AGVs) and artificial intelligence/machine learning-driven (AI/ML) quality control. Private 5G will help transform experiences like customer shopping or stadium management, as well as inspire entirely new initiatives across your business.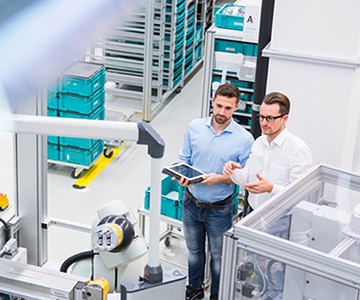 See what the experts have to say about private 5G.
To delve deeper into the factors slowing down adoption of 5G and understand how to tackle these inhibitors, we spoke to six of Verizon's leading experts on 5G and edge computing.
This report identifies huge potential for private 5G, and edge computin, and explains how it will help companies innovate and drive business growth.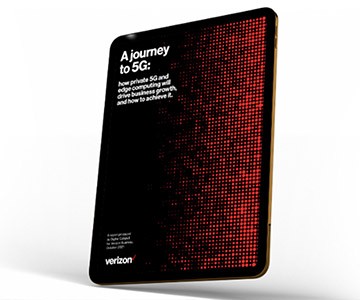 How will private 5G drive business growth?
This report is based on consultations with industry professionals across Europe. It provides insights into the benefits of private 5G and edge computing for enterprise users.
Key questions you should ask yourself
about private 5G.
Now that the basic questions have been answered, you may be wondering what your next steps should be.
Where is private 5G available?
Private 5G is available in many places where public 5G hasn't reached yet and may not reach for years. Contact your account representative for more information.
How many access points will I need?
5G isn't a single technology. How many access points you will need depends on a range of factors, including the environment (indoors or outdoors and what obstacles there are), the frequency you're using, and the number of devices you're supporting.
Do I need to worry about interference?
5G is specifically designed to support a huge number of devices, with the potential to support up to a million devices per square kilometer. Interference from other devices shouldn't be an issue.
Does 5G introduce new security risks?
5G networks will potentially be the target of new threats designed to exploit their new capabilities. 5G has been developed with security in mind, with many features that make it harder for cybercriminals to spoof networks or eavesdrop on communications.
What's involved in integration?
Depending on what you plan to do with 5G, you could face new integration challenges. If you're looking at using artificial intelligence (AI), such as real-time intelligent video analysis or AGV applications, you could consider integrating with edge computing where available.
Can we do this ourselves?
Absolutely. You could buy the hardware directly from an equipment provider, apply for all the licenses you need, and plug everything in. But partners can help you de-risk the process. They can also help integrate 5G and its applications with your existing network infrastructure and applications, or take you through the hybrid positions you might need on your way to full 5G rollout.
How could private 5G transform your industry?
From customer experience and business intelligence to autonomous machines, see how 5G will change operations across industries in our private 5G use case visualizer.
Let's get started.
Choose your country to view contact details.