5G Business Internet

starts at $69/mo.

Get ultra-fast, ultra-simple wireless internet powered by 5G Ultra Wideband.


Bring the power of 5G to your business.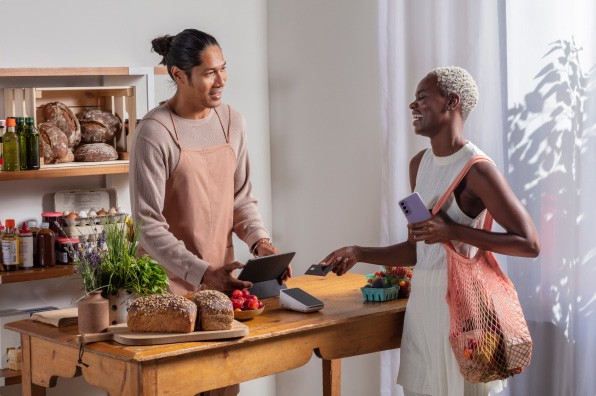 Reliable and fast.
So your tablets, phones, point of sale and more run on the ultra-fast and reliable Verizon network.
Ultra simple and hassle-free.
Either set it up yourself or have our experts handle it for you, so you can get our fastest speeds in no time.
10-year price guarantee.
Lock into a guaranteed price for 10 years with no long-term contracts.1
A new kind of
business internet.

Choose the plan that fits your business. All plans come with our 30-Day satisfaction guarantee.

Check availability
Available only in select areas. Self-setup and professional installation options available, and may vary depending on location. Plus taxes.

Available only in select areas. Self-setup and professional installation options available, and may vary depending on location. Plus taxes.

Available only in select areas. Professional installation only. Plus taxes.
Take the guesswork out
of fixed wireless access.
Watch our webinar series to demystify and explore the ins and outs of fixed wireless internet, like 5G Business Internet.
Save with two
of our best.

Save up to $80/mo when you pair 5G Business with a Business Unlimited smartphone plan.

Get one month
on us.

Online only offer when you sign up for 200 Mbps or 400 Mbps speed tiers of 5G Business internet.

We'll help cover
costs to switch.

Get up to a $1,500 credit when you switch to help cover early termination fees from your current provider. Call us to learn more.
General questions +
What is 5G Business Internet?

A fast and scalable wireless connectivity solution. It's also known as "fixed wireless internet access."


What are the speeds of 5G Business Internet?

Based on the plan selected, 5G Business Internet download speeds include the following:

 Up to 100 Mbps, 200 Mbps or 400 Mbps

Plans reflect maximum available download speeds; these vary and may be lower in the event of network congestion. Upload speeds also vary and will be lower than download speeds. See your Verizon Sales Representative for details.

What are the benefits of Verizon 5G Business Internet?

Easy and dependable


- Professional or self-setup options are available in select markets and may vary depending on location and speed tier selected.
- Use Verizon-provided equipment or use your own compatible 5G-enabled device (You can check to see whether your router is compatible during purchase).
- Connection is suitable as either Primary or a Business continuity (backup) internet solution.
- Strong network security, built from the ground up.

Speed and performance


- Outstanding speed
- Massive capacity
- Unlimited data

Innovation ready


- Platform for advanced features and new organizational outcomes
- Become an early adopter of next-gen network technology

5G built right


- From a trusted business partner with award-winning network performance.

If you want to learn more about 5G and how it can benefit your business, read here:

Is 5G fixed wireless internet the future of business agility?

What is 5G Business internet and how can it help my business?

Additional resources

What can you do with Verizon 5G Business Internet

Quickly and powerfully connect locations as needed.

New branches, campus expansions, temporary locations— businesses often need high-powered connectivity quickly for new locations. New locations with qualifying coverage can use Verizon 5G Business Internet to simplify and speed internet setup.

Beyond internet connection to digital transformation

With Verizon 5G Business Internet, you'll begin your digital transformation journey. As 5G technology evolves, businesses plan to leverage transformative technologies such as edge computing, utilize Internet of Things (IoT) sensors and devices in new ways, achieve scale and efficiency beyond what's currently possible and even realize new business models. 5G Business can help make sure that your offices have the connectivity they need to monitor these larger ecosystems driving  intelligence from the cloud down to your executive's desktop.  
Availability and installation +
Where is 5G Ultra Wideband available?

In the next 12 months, we expect to have incremental 5G bandwidth available to 100 million people in the initial 46 markets, delivering 5G Ultra Wideband on C-Band spectrum. Over 2022 and 2023, coverage is expected to increase to more than 175 million people in the 46 markets. By 2024 and beyond, when the remaining C-Band is cleared, more than 250 million people are expected to have access to Verizon's 5G Ultra Wideband service on C-Band spectrum.

See what's available near you.

Check availability

Does 5G Business require equipment?

Yes, there is equipment needed for the 5G Business internet service. We offer professional installation, a plug-and-play (self-setup) option, or customers may bring their own 5G compatible device, all 3 scenarios are dependent on availability in select markets and speed tiers. All installation options through Verizon will be simple and we will keep you informed throughout the process. Self-setup requires a Verizon-provided indoor router/receiver device, professional installation requires an outdoor 5G receiver and compatible 5G-enabled router, bring your own device scenarios depend on the unique specifications of the hardware.

How should I prepare for 5G Business installation?

Whether you choose professional installation or self-setup, it's simple and hassle-free for your business.

If you choose professional installation, here are a few tips to help you prepare:

- Check service availability for the address
- Obtain permission to install the receiver—installation requires mounting equipment on the building exterior, Verizon requires written permission from the building owner to install this service
- Have our experts handle the installation
- Connect

If you choose self-setup, here are a few tips to help you prepare:

- Check service availability for the address
- Once you receive your Verizon Internet Gateway for Business­ receiver, place your device in an open area on an elevated surface and plug in the power cord.
- Do not unplug
- When you see a solid white light, you're on the Verizon network and can connect using the WiFi information on the bottom of the device. For detailed setup instructions, or if you need assistance, please visit: setup.verizon.com/businessinternetgateway

If you choose to bring your own compatible 5G device, here are a few tips to help you prepare:

- Check the service qualification for the address & work with your sales rep to identify a compatible device.
- Obtain a device/SIM compatible with the Verizon 5G Ultra Wideband Network (note IMEI and ICCID for ordering process).
- Install compatible 5G device.
- Place order for appropriate 5G Business Internet plan (based on device specifications and & qualification).
- Activate compatible 5G device and connect.
Call our sales team.

1.800.526.3178

For public sector, call

1.844.899.0685
5G Ultra Wideband available in select areas. 5G UWB access requires a 5G capable device with select voice/data & 5G UWB plans. 5G Business Internet is available in select locations. See the above "Availability and Installation" for details.

1. 10 Year Price Guarantee offer for new 5G Business internet customers in select areas only. Guarantee applies to the base Internet monthly access fee, excluding applicable taxes, fees and equipment charges. Customers must be in good standing and retain 5G Business internet at the current service address; any customer-initiated change to the service or service plan cancels the price guarantee. Changes or disruptions to 5G Business internet service to your location outside of Verizon's control will cancel the price guarantee. Terms apply.

2. Graphic represents a variety of starting prices for business internet in 2021 across geographic regions, speed tiers and terms, and assumes that internet prices will continue to rise based on historical trends. Slopes are estimates and do not represent actual savings.

*Offer available to new 5G Business internet customers who sign up for qualifying service as follows: A one time discount of $199 (400 Mbps speed tier) or a one time discount of $99 (200 Mbps speed tier) will each be fulfilled as a bill credit to your Verizon account and will appear within 1-2 billing cycles. May only be combined with select offers. Limited time offer.