Executive Briefing Program

Powerful collaboration. Transformative strategies.

Collaborate with technology leaders to discover imaginative ways to help transform your business. Our Executive Briefing Program gives you one-on-one access to our top execs, industry leaders and subject matter experts to explore creative strategies that can drive innovation forward leveraging Enterprise Intelligence. Powerful relationships start here.
Some meetings advance your business. Others change it forever.
We're in the business of human progress. At an Executive Briefing, you'll be inspired to push the limits of your ideas with creative input from technology innovators. This convergence of perspectives, knowledge and insights can help fuel your success today and in the future.
It's more than a conversation—it's a collaboration. Experience our current technology solutions firsthand at one of our Executive Briefing Centers.

See practical demonstrations of our technologies, or if you want more insight into future technologies, you can get that, too. Distinct from traditional briefing centers, our facilities have won awards for design, construction, lighting and unparalleled use of technology—for a world-class immersive experience tailored to your industry.
Our Executive Briefing Program lets you:
Collaborate with technology and business experts
Explore the possibilities of tomorrow's technologies
See our solutions in action—including 5G, Intelligent Networking, Internet of Things (IoT), Business Communications, Customer Experience Services and Security
Helping you evolve and advance
Working together, we can shape customized strategies—using transformative new technologies—to propel your business toward innovation and bottom-line results. Tell us your greatest ambitions. We'll help make them possible.
Your visit. Designed to address your needs.
Explore new solutions and gain strategic insights based upon your most pressing challenges to help you propel business forward in exciting new ways:
Exclusive Access
Participate with Verizon leadership in a technology-focused forum
Get actionable insights from technology and industry experts
Connect with hardware and applications partners
Open Collaboration
Freely express your needs and get strategies, and insights to address them using innovative technology
Learn about strategic development of products and solutions
Enjoy a relaxed, productive environment
Innovative Ideas
Create potential solutions for your business
Get early access to thought-provoking reports and product road maps
Experience solution demos that showcase our solutions in action
Completely Customized
We work with you to ensure your visit is tailored to address your unique business priorities
Choose a center based on technologies or geographic preferences
Accommodate offsite team members using collaboration tools
Customer success stories
Learn how Verizon has helped other customers stay business ready - and how we can help you, too.
Discover transformational opportunities for your network—and your business.
Experience the latest technologies in action and see what the future holds at one of our state-of-the-art centers.
Unable to travel? Let us bring the Executive Briefing Experience to a location near you!
London, United Kingdom
Located in Central London, the Hub is an immersive space where the world's leading tech creators can get inspired, share ideas and expertise, innovate, and fuel the previously impossible. The Hub is where you can explore the cutting-edge advancements of the future. It is a place where you can uncover the incredible potential of 5G today and go on a journey of discovery and progress. Innovation and sustainability go hand-in-hand, and the London Hub is a platform which showcases our future-fit thinking.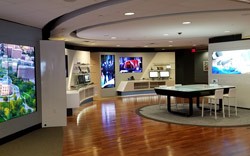 Ashburn, Virginia
Located in Northern Virginia within the Washington, DC, metropolitan area, this state-of-the-art center is the only one co-located with our Global Network Operations Center and a Security Operations Center. Come experience technologies within Connected Venues, Augmented and Virtual reality, Video analytics and many other 5G enabled solutions. Here our clients have a unique opportunity to experience 5G built right for public safety in our immersive Verizon Frontline environment.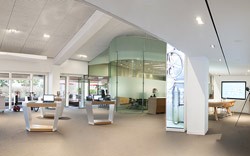 *Basking Ridge, New Jersey
Central to New York City, Connecticut and Pennsylvania, this center also serves as our headquarters and is home to Verizon executives from all parts of our business. Meet the team that is championing the next generation of communications and technology solutions. See frictionless retail and crowd analytics in a live 5G Mobile Edge Compute setting.
Boston, Massachusetts
Located in Boston's entertainment district on Causeway, the Verizon Innovation Lab showcases the possibilities of emerging technologies over 5G connected infrastructure and data to improve public safety, AI and robotics solutions that enhance efficiency and productivity, and workforce training applications that leverage the latest digital and immersive platforms. This immersive sensory experience provides inspiration for ingenuity.
San Francisco, California
Our Innovation Lab in downtown San Francisco features a portfolio of technology demos showcasing a range of commercially available solutions and emerging technologies. It also serves as a key location for explaining how 5G and Mobile Edge Compute will drive new use cases and transform industries. Explore how industry leaders are helping pave the way with real-word experimentation that accelerates solution development.
Award-winning efforts exemplify our vision for technology.
At Verizon, we don't just put technology in place—we build it into our centers and stress it in our Executive Briefing Program. From the ground up, we've made technology organic to the experience. And we've won awards for our products and services. From green design to dynamic labs to copper theaters that block interference for pure 5G demonstrations, we've created facilities that showcase the power of technology. Join us at one of our centers, and discover why we have earned the following awards.
Awards list
We're recognized regularly by the Association of Briefing Program Managers (ABPM), the premier association for recognizing outstanding briefing programs and professionals. Our ABPM designations include:
---
ABPM Program of the Year
ABPM President's Service Award
ABPM World Class in Customer Experience
ABPM World Class in Management
---
ABPM World Class in Measurement
ABPM World Class in Planning
ABPM World Class Center
ABPM World Class in Customer Service
---
ABPM World Class Marketing
IIDA Award for Best Research Lab Design
Global Green Good Design
Let's get started.
Choose your country to view contact details.