HopeLine has teamed up with pro football player, William Gay, to inspire people across the nation to take action against domestic violence by dropping off a phone to support victims and survivors.
William Gay has been personally affected by domestic violence and together, we are sharing his story through a powerful PSA chronicling an emotional journey into his childhood marked forever by the moment his stepfather killed his mother when he was seven years old.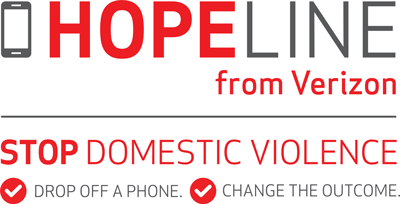 Donate a phone
You can donate a phone by following these five easy steps.
STEP 1

:
Erase any data from the phone and disconnect the phone's service with your wireless provider.

STEP 2

:
Remove any storage cards and SIM cards from the phone.

STEP 3

:
Power off the phone.

STEP 4

:
Place your wireless phone from any service provider along with the battery, charger and any accessories you wish to donate in a plastic bag. Find a Verizon Wireless retail store near you to drop your wireless phone and accessories in a HopeLine bin.

STEP 5

:
Don't have time to go to a store? Pack your wireless phone, battery, charger and accessories in a secure package. Print out our pre-paid mailing label and just drop in the mail.
---
Host A Phone Drive
Anyone can join in and host a HopeLine phone drive. We partner with companies for events and ongoing collections and team up with community groups and dedicated individuals like you to host drives across the nation.
With a little bit of planning and utilizing HopeLine materials, you can host a phone drive that will benefit victims of domestic violence and help the environment at the same time.
Share a few copies of our HopeLine Overview with friends, colleagues and contacts that would be interested helping you host your phone drive to help identify potential locations or events.
Select the dates and location for your drive. Be sure to plan for the length of your collection when you do so.
Get free HopeLine materials to promote and host your drive. Just mail your request with the dates you've planned and we'll send you the materials you need.
Maximize participation in your phone drive. Publicize the event in advance with community newspapers, church bulletins, flyers, newsletters, bulletin boards and on social media. Feel free to mention us on Twitter using the hashtag #HopeLine and tweet @Verizon. Let people know how long phones will be collected, why donations are needed and how they will be used.
Place the collection boxes in visible but secure locations. Ensure that collection boxes aren't getting too full. Move collections to a storage area as needed.
Pack your collected phones, batteries and accessories securely for shipment. Request mailing labels for special collections and ship your phones using the label provided.