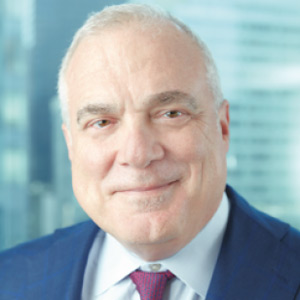 Former Chairman and Chief Executive Officer of Aetna Inc.
Director since: 2015
Board Committees:
Finance (Chair), Human Resources
Mr. Bertolini is the former Chairman and Chief Executive Officer of Aetna Inc., a Fortune 100 diversified healthcare benefits company.  He served as Aetna's CEO from 2010 to 2018, as Chairman from 2011 to 2018, and as President from 2007 to 2010, where he was responsible for all of Aetna's businesses and operations across the company's range of healthcare products and related services.  He also served as Executive Vice President and head of Aetna's regional businesses. Mr. Bertolini joined Aetna in 2003 as head of Aetna's Specialty Products after holding executive positions at Cigna, NYLCare Health Plans and SelectCare, Inc. Mr. Bertolini served as a director of CVS Health Corporation from November 2018 to February 7, 2020.
Mr. Bertolini's experience at a large, multinational corporation provides the Board with valuable operational and management expertise, as well as critical perspective on strategic planning.  His experience as Chairman and CEO of Aetna provides the Board with additional insights into the healthcare industry.
Meet Verizon's
board members.