Sustainability
We are conscious of the world around us.
Committed to reducing our carbon intensity
We set a goal in 2009 to reduce our carbon intensity by 50% by 2020, even as we grew our business. We are proud to report that we achieved this goal, reducing carbon intensity by 54% through the first quarter of 2016, nearly four years ahead of our target.
Our carbon intensity reduction vs. 2009 baseline
Helping customers reduce carbon emissions
By using connected solutions to displace energy-intensive technologies, we help our customers save energy and reduce their carbon emissions.
Total gross CO2e avoidance enabled in 2016
5.9-8.6M
metric tons. An 18-22% improvement over 2015.
Removing 5.9-8.6M metric tons of GHG emissions =
1.2-1.8M
cars removed from the road for one year.
CO2e reductions enabled by our solutions offset
98-144%
of Verizon's 2015 operational emissions (Scope 1 &2).
Investing in green energy
Over the past five years, Verizon has made a major push to incorporate green energy — such as solar and fuel cell technology — into our facilities. We've set a new goal to add 24MW of green energy in our operations by 2025, doubling our current capacity.
Device recycling
Through our device recycling program, we reward customers who recycle their wireless devices and keep them out of landfills.
Join device recycling program
Verizon Recycling Rally - NFL and Houston Zoo 2017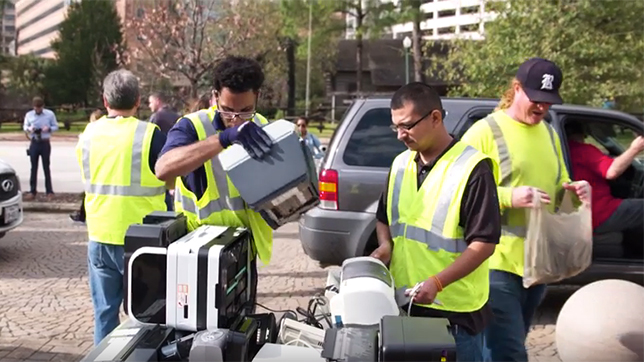 ENERGY STAR® Partner of the Year five years in a row
We're honored to win this award in recognition of our strong commitment to preserving a healthy planet for future generations. We will continue to build efficiencies into our retail stores, buildings and operations.
Corporate Responsibility Report
See the results of our community efforts
View report