Sustainability
We are conscious of the world around us.
Committed to reducing our carbon intensity
Throughout our operations, we have adopted strategies to minimize Verizon's environmental impact and drive greater efficiency.
Our success to date in reducing carbon intensity has been made possible by copper-to-fiber migrations, investments in green energy, building improvements and changes in our fleet operations.
Having exceeded the goal we set in 2009 to reduce our carbon intensity by 50% by 2020, we have set a new goal to cut our carbon intensity in half over 2016 levels by 2025. As of year-end 2017, we've already reduced our carbon intensity by 28%.
Helping customers reduce carbon emissions
Verizon's connected solutions – from telematics to smart meters to remote patient monitoring – help our customers save energy and reduce their carbon emissions. We work with the Carbon Trust to measure the yearly reduction in carbon dioxide equivalent (CO2e) emissions our customers are achieving through the use of our products and services. 
We set a new goal that by 2022, Verizon's networks and connected solutions will save more than two times the amount of global emissions that our operations create. This work supports United Nations Sustainable Development Goal 8, decoupling economic growth from emissions and promoting resource efficiency.
In 2017, our solutions enabled:
Total gross CO2e emissions avoidance of
7.7M
metric tons
7.7M MT of CO2e emissions is equivalent to removing
1.6M
cars from the road for one year
CO2e emissions avoidance enabled by our solutions offset
138%
of Verizon's 2016 operational emissions (Scope 1&2).
Investing in green energy
Over the past six years, Verizon has made it a priority to deploy more green energy resources — such as solar and fuel cell technology — into our facilities. We've set a new goal to add 24MW of green energy in our operations by 2025. 
Also, we have committed to sourcing renewable energy equivalent to 50 percent of our total electricity usage by 2025. For a company of our size, this is a significant undertaking. But it's one we feel we have a responsibility to support for the benefit of all society.
Reducing water consumption
Having exceeded our goal for water consumption in 2017, we set a new goal: to reduce water usage by 15% over our 2016 level by 2025.
Device recycling
Through our device recycling program, we reward customers who recycle their wireless devices and keep them out of landfills.
Verizon Recycling Rally - NFL and Houston Zoo 2017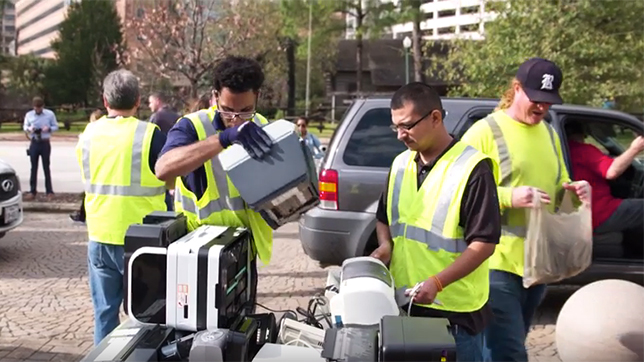 ENERGY STAR® Partner of the Year five years in a row
We're honored to win this award in recognition of our strong commitment to preserving a healthy planet for future generations. We will continue to build efficiencies into our retail stores, buildings and operations.
Corporate Responsiblity Report
Learn more about Verizon's corporate responsibility initiatives.