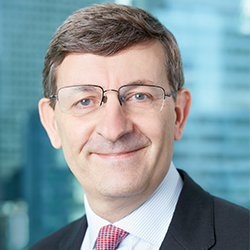 Former Chief Executive of Vodafone Group Plc
Director since: 2019
Board Committees: 
Corporate Governance and Policy, Finance
Other Public Boards:
Unilever PLC and Unilever N.V.
Mr. Colao is the former Chief Executive of Vodafone Group Plc, a global mobile communications company. He served in this role from 2008 to 2018. During his long tenure with the Vodafone Group beginning in 1999, Mr. Colao held numerous executive positions, including serving as the Regional Chief Executive Officer for Southern Europe, Middle East and Africa. He left the company in 2004 to serve as Chief Executive Officer of RCS MediaGroup, a leading Italian publishing company. Mr. Colao rejoined the Vodafone Group in 2006 as Deputy Chief Executive and Chief Executive, Europe and was appointed to the Vodafone Board. Mr. Colao has served as a director of Unilever since 2015.
Mr. Colao provides the Board with a valuable global perspective on the telecommunications industry, as well as extensive related operational and capital allocation experience. He has unique insight into Verizon's wireless business as a result of his five-year tenure on the Verizon Wireless Board of Representatives when Verizon Wireless was still a joint venture between Vodafone and the Company.
Meet Verizon's
board members.