5 questions with a V Teamer: Serving as a role model at work and in the community
Through his story, Joe Nieves, UNITED ERG global volunteer lead, encourages and empowers others

 

By Frances Moffett
Full Transparency
Our editorial transparency tool uses blockchain technology to permanently log all changes made to official releases after publication. However, this post is not an official release and therefore not tracked. Visit our learn more for more information.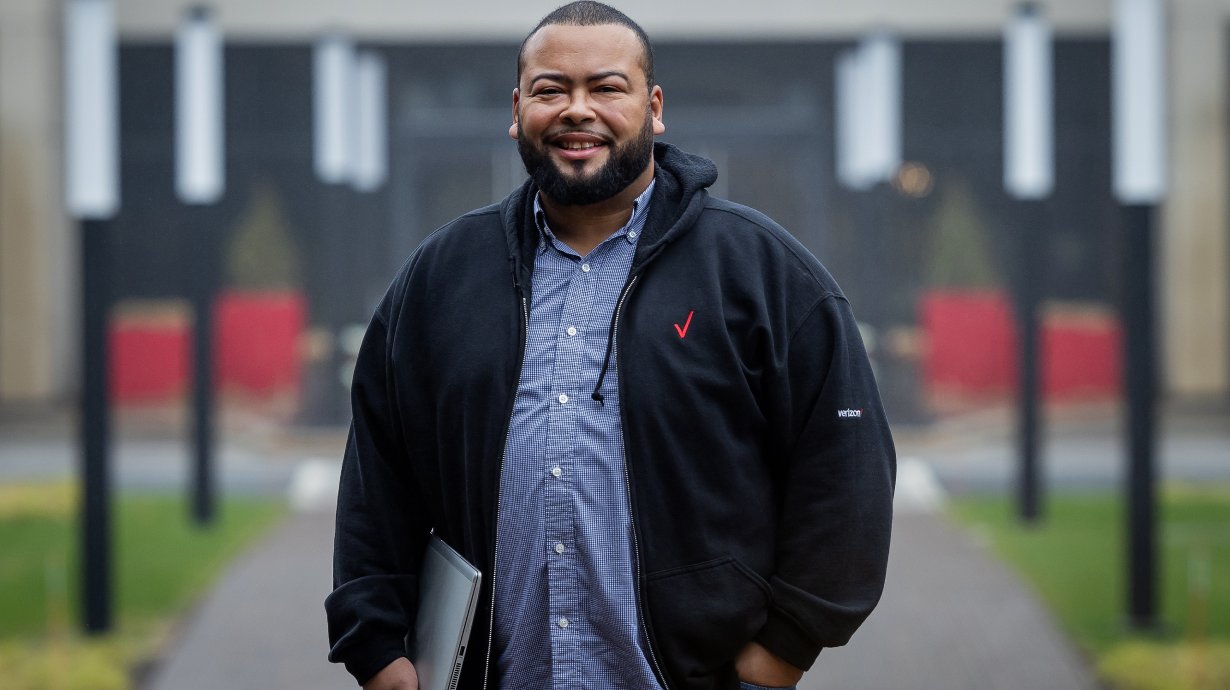 Joe Nieves, a financial planning and analysis manager at Verizon, grew up in an underserved community, where he says he experienced his fair share of hardship.
"I know what it is to have close to nothing growing up," says Nieves, a six-year veteran of the company. "My family was unable to receive—and generally unaware of—the emotional and mental health support opportunities that were out there. I know we could have used that support. That's why I make myself available to help provide it."
For Nieves, participating in the Citizen Verizon Volunteers program has allowed him to share his life experience to inspire others, while contributing to the program's goal of 2.5 million employee volunteer hours by 2025.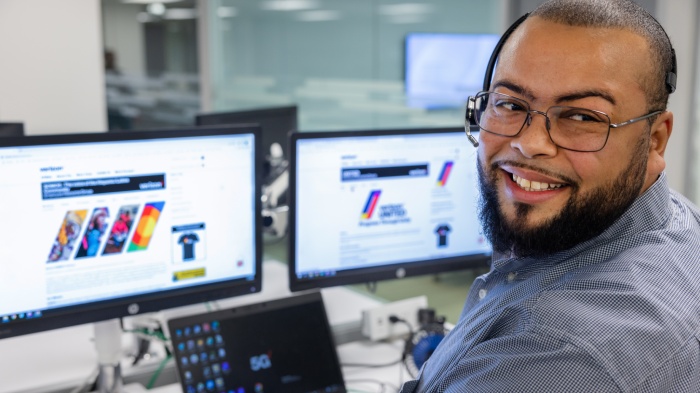 As UNITED ERG global volunteer lead, Nieves says his main goal is to create volunteer events that resonate with members and to build programs people are passionate about. Credit: Michael J. Le Brecht II
One way he does this is through his role as a global volunteer lead for Verizon's UNITED ERG, an employee resource group whose mission is to "empower the voices of all the world's people, embrace our differences and promote inclusion."
The group, which launched in January 2022, has contributed over 5,000 volunteer hours toward Citizen Verizon Volunteers' goal—no easy feat for a new ERG. "Everyone is passionate about something different, so we strive to keep the volunteer portal filled with many different events," Nieves says. "We've done student and small-business mentoring, letters to active service members, mock interviews and resume reviews, flower planting for bees and waterway cleanups."
In addition to his work with the ERG, Nieves is enthusiastic about giving back to youth and has dedicated many hours to working with Hispanics Inspiring Students' Performance and Achievement (HISPA), a Verizon Strategic Volunteer Partner.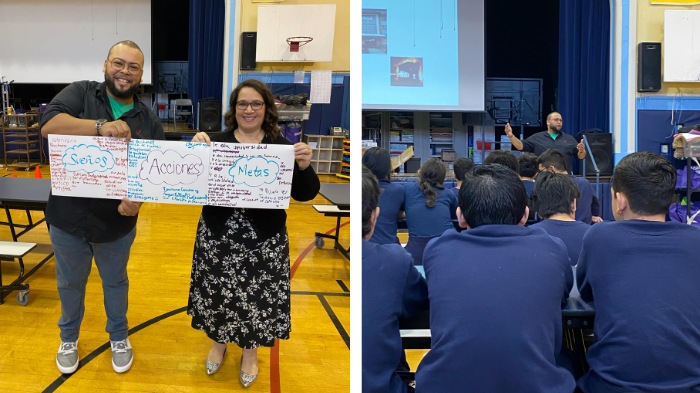 Nieves, pictured with SOMOS ERG global volunteer lead Alizanette Rodriguez, says one of the best parts about volunteering with HISPA is the letters and heartwarming feedback he's heard from the students who participate in the program. He said, "One student told me, 'You're a warrior, and we need more people like you around us.'" Photos courtesy of Joe Nieves.
"HISPA helps Latino youth from underserved communities. I was one of those kids, and I didn't have anyone who looked like me to look up to," Nieves says. "Representation matters, and it's imperative for our youth to have representation from all cultures, ethnicities, genders and religious backgrounds."
For his volunteerism, Nieves received HISPA's 2022 SHARE Award for Role Model of the Year, an annual award for a HISPA role model who has excelled in their support of the organization.
1. How do you feel about receiving the SHARE Award for Role Model of the Year?
It was such a great honor and one of my most adored achievements. In working with SOMOS, our Hispanic/Latinx ERG, we've had a variety of employees, from all business units, volunteer and share their stories with students at partner schools. This award doesn't just belong to me—it belongs to SOMOS and everyone involved as well.
2. In addition to volunteering extensively with Verizon's ERGs, you've led UNITED since it launched. What has been most rewarding about your work with the group?
While we do have over 5,000 unique employee volunteer hours, when you look at the larger scope of impact, based on partnerships and collaborations, UNITED is linked to nearly 21,000 total volunteer hours. That is a massive impact and not something that anyone can do alone. It's a testament to the UNITED members and partners.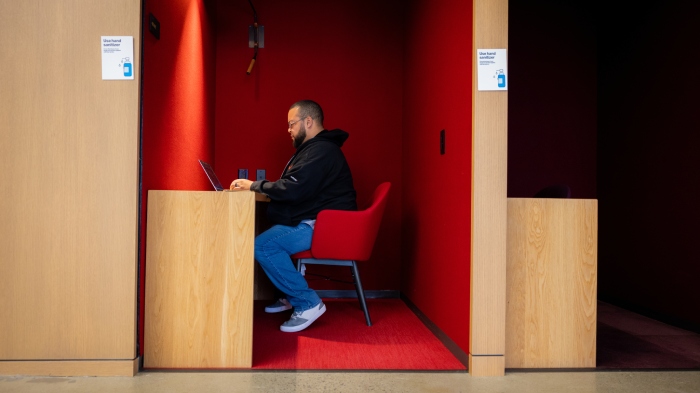 A V Teamer for six years, Nieves started at the company as a workforce planning manager. Credit: Michael J. Le Brecht II
3. What impact have you seen as a result of your volunteering?
For a few years, I've worked with Per Scholas, which offers training in tech careers to adults in underserved communities. Most are either unable to afford college or are changing careers due to a hardship they've experienced. I've spent time conducting mock interviews and providing guidance to some of these students. I do my best to keep in contact with them and have seen quite a few of them land jobs and begin their careers. These are life-changing jobs for these folks. It feels pretty amazing to make such a tremendous positive impact. It's important to pay it forward when you can.
4. What activities are you planning to participate in through the end of this year and in 2023?
I recently completed my first in-person junior high school visit for HISPA, and I was a guest speaker at the Verizon Innovative Learning Schools (VILS) Career Exploration Day, in partnership with Digital Promise.
For 2023, I'm going to continue working with HISPA, and I'm looking forward to getting involved in more events that are in partnership with as many communities as possible. I'm also looking forward to the UNITED Pre-Pillar Event Series, where we partner with other ERGs the month before their pillar event. (A pillar event is a month dedicated to an ERG and their membership base.) We tie in volunteerism and allyship. This series provides other ERGs with a medium to gain exposure to even more Verizon employees.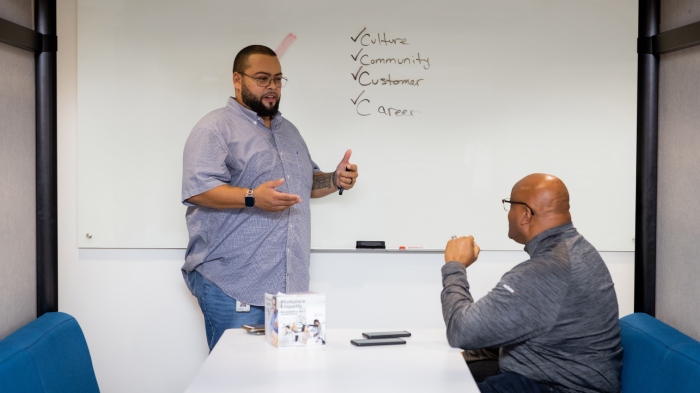 Not only has volunteering allowed Nieves to connect with his community, he says it has given him the courage to be authentic no matter where he shows up. Credit: Michael J. Le Brecht II
5. What's your advice to other V Teamers who may not be volunteering with the Citizen Verizon Volunteers program yet?
Get involved. I would have never thought about the impact that these events would have on me as a volunteer. I know it's helped different people and communities, but it's also such a rewarding feeling to give back. Your one hour can mean a lifetime to someone else.
There's still time to give back this year. Find opportunities where you can share your story, share your skills or share one hour of your time to help someone else. Log in to the volunteer portal to learn more.