After the storms move out, Verizon moves in to support public safety and relief efforts
Full Transparency
More of our content is being permanently logged via blockchain technology starting [10.23.2020].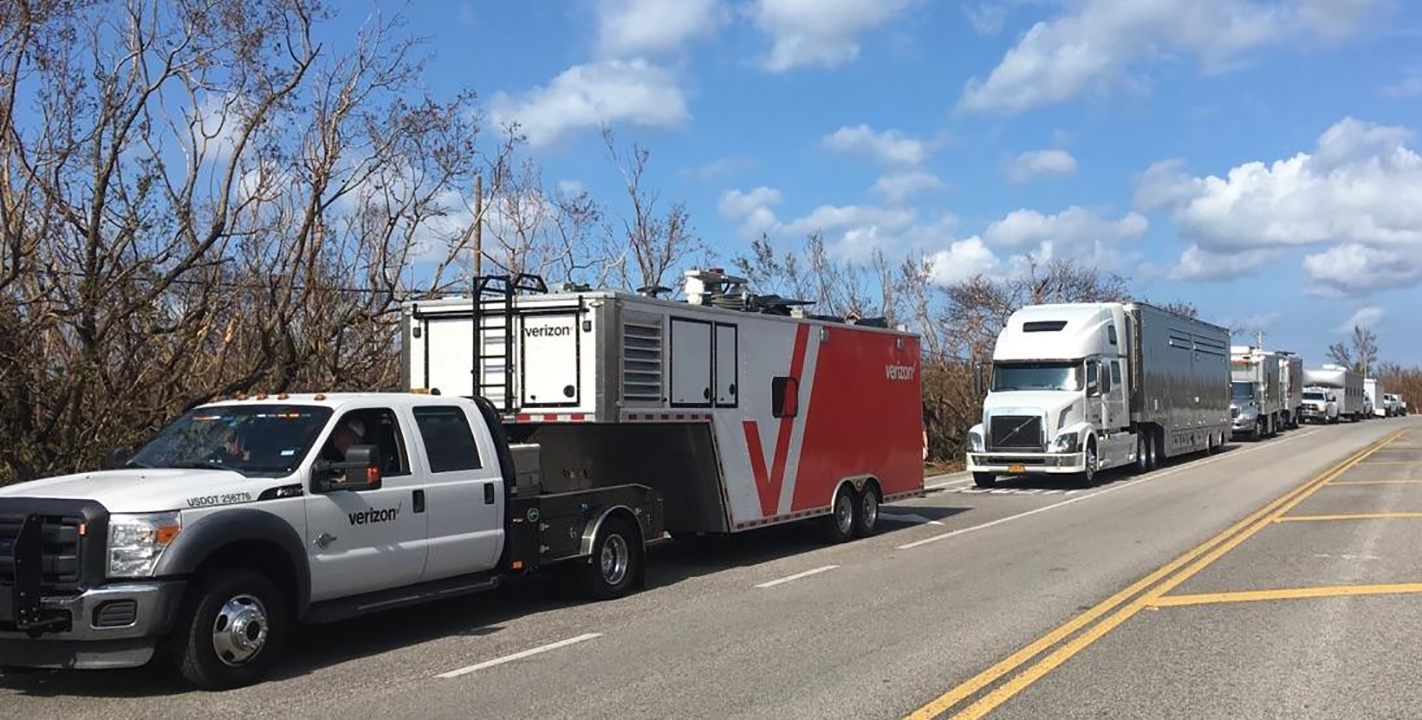 Last month, we witnessed something unprecedented in recent memory: two major hurricanes making landfall in heavily populated areas in the span of just two weeks.
Hurricanes Harvey and Irma severely tested the critical networks and infrastructure of the communities in their paths, and left widespread flooding and other devastation in their wakes. Local, state and federal first responders and emergency management organizations were on the scene immediately in both states, followed by other relief organizations, to begin the long service restoration and recovery process.
At the center of their efforts were the communications networks public safety, first responders and relief organizations rely on to connect with each other as they work together to coordinate their responses to the storms.
Emergency response communications are critical before, during and after major storms, and Verizon's network proved it was up to the task in both states.
Planning and preparation pay off
In the hardest hit areas of Texas, more than 98 percent of our network facilities were in service during and after the storm. In Florida, 90 percent of our facilities were operational after the storm. Backup batteries and generators kept sites on the air where commercial power was out, and massive refueling efforts began as soon as it was safe to do so, keeping those sites up and running.
In those areas where we needed to enhance coverage, we deployed mobile cell sites – including new satellite picocells on trailers, or SPOTs, that use a satellite connection to our network – to support first responders on the ground and citizens returning to their homes.
And we had drones in the air surveying our sites, assessing their status, and relaying information back to our network teams. Network engineers were then deployed immediately to make necessary repairs and restore service at our remaining sites, returning our networks in both states to business-as-usual levels within a week of the storms.
We hardened our networks prior to the storms, building a network that meets or exceeds many of the guidelines set forth by the National Public Safety Telecommunication Council report titled "Defining Public Safety Grade Systems and Facilities," and rapidly executed our comprehensive storm response plans after the storms happened to provide our public safety and first responder customers with the level of support they need and expect.
And it didn't end there.
On-the-ground support
Public safety agencies and relief organizations will be helping the hardest hit areas of Texas and Florida recover for weeks, if not longer. Basic services, including power and running water, are still out in some places.
Two "Big Red" communications trailers – 53-foot trailers with meeting space, mobile workstations, and communications services including Internet access and phone service – to give local officials a command center to work from
A "gooseneck" trailer featuring an inflatable shelter and mobile workstations for command-and-control coordination
A wireless emergency communication center (WECC) that offers device charging, computer workstations, and wireless phones, tablets and other devices for residents to use to contact family and friends
And a store-on-wheels for device charging, phone calls and Internet access
We also installed in-building solutions in a FEMA command center and satellite solutions for several big box retailers to restore service to their point-of-sale systems so residents could stock up on important supplies.
In Florida, we sent a 16-vehicle caravan of those same large assets to The Keys, including:
Two SPOTs
Big Red trailer
Gooseneck trailer
Tactical command center
Mobile command center
WECC
We also deployed two WECCs in the Naples area, and a WECC and a charging house on wheels (CHOW) in North Miami Beach.
In both states, we supported our existing first responder, government organization and relief organization customers 24x7 during and after the storms, and also delivered more than 7,800 additional mobile devices and other equipment – including smartphones, tablets, routers, jetpacks, battery packs and chargers – to those customers to help them stayed connected during their long days and nights in the field.
Emergency response efforts like this aren't done on the fly – they require years of planning and preparation, a hardened network that can weather the storm, and dedicated people on the ground who don't quit until the job is done.
There is still much work to do to fully restore vital services in our communities to pre-storm conditions. And maintaining a wireless network is a 24x7 job, so there is always work to be done on our part to keep our customers connected. We won't stop until the recovery efforts are complete.
But Verizon's commitment to our communities goes beyond the network, and the dedication of our people to helping those communities recover goes beyond that of our employees who live in those communities. Hundreds of our employees from across the country have contributed thousands of hours volunteering to assist in relief efforts in Texas and Florida. And thousands more worked the phones in 20 of our call centers to support the Hand in Hand Telethon for Hurricane Relief, helping raise more than $44 million.
The relief and recovery efforts in Texas and Florida continue, and Verizon will be there to support those efforts to their completion.
Verizon thanks our public safety, first responder and relief organizations for all they're doing for the people of Texas and Florida. We're proud to work with them.
Learn more about Verizon's planned dedicated public safety network.
For related media inquiries, please contact story.inquiry@one.verizon.com