Full Transparency
More of our content is being permanently logged via blockchain technology starting [10.23.2020].
Life has a way of changing your plans. In the fall of 2014, a southern Minnesota farm family had agreed to share how they used technology and the Verizon network to plant and harvest their crops. However, a few weeks before the season, farmer Dave was diagnosed with acute myeloid leukemia, and everything changed.
The family, whose last name we are withholding at their request, was thrown into a life crisis. "The type of leukemia that Dave had can happen very quickly," said his wife, Sarah. The couple learned that Dave would need aggressive treatment for six to eight months at the Mayo Clinic in Rochester, Minn., meaning weeks at a time away from their three children. 
The challenges seemed overwhelming, including the need for a bone marrow transplant, as well as the impending corn and bean harvest. "When your livelihood depends on the harvest, and you are cut out of it, it get's difficult," said Dave.
To cope, the family deepened their spiritual faith, but they also found themselves relying on technology to help overcome their many new challenges.
Sarah kept Dave's Caring Bridge web site page updated from her tablet. The couple found comfort in supportive comments made by readers of their page and in the community of other cancer patients. "As we shared our faith and opened up our lives to people we didn't know, we received texts and emails back," said Sarah.
Dave and Sarah stayed in touch with their kids through phone calls and video chats. Sarah also used the Mayo Clinic mobile application to track Dave's medical reports, blood test results, appointment schedules and other critical information.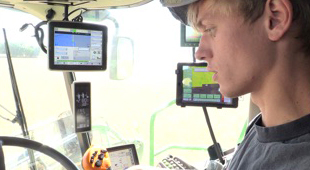 Their son Lucas came home from college to harvest the fields, but he wasn't alone on the farm. Dave was able to monitor the equipment from nearly 100 miles away using the Verizon network and software on his tablet.
"I was always in contact with what the combine was doing," said Dave. "I knew Lucas's speed, the yield and the moisture of the grain. It gave me a lot of ease that I could lay in the hospital and look at the technology on the device, and see what was going on at the farm."
Lucas added another benefit. "He (Dave) is a pretty active guy and he doesn't like to sit very long. So it helped that he was able to watch and keep his mind occupied."
With estimates of more than 1.6 million new cancer cases diagnosed in 2015 in the United States, Dave and Sarah hope their story will help inspire other families in a similar situation. Dave's progress has been exceptional and his health outlook is positive, and he was back on his farm in fall helping supervise the harvest. "I found out how important communications, faith and the community were," said Dave.